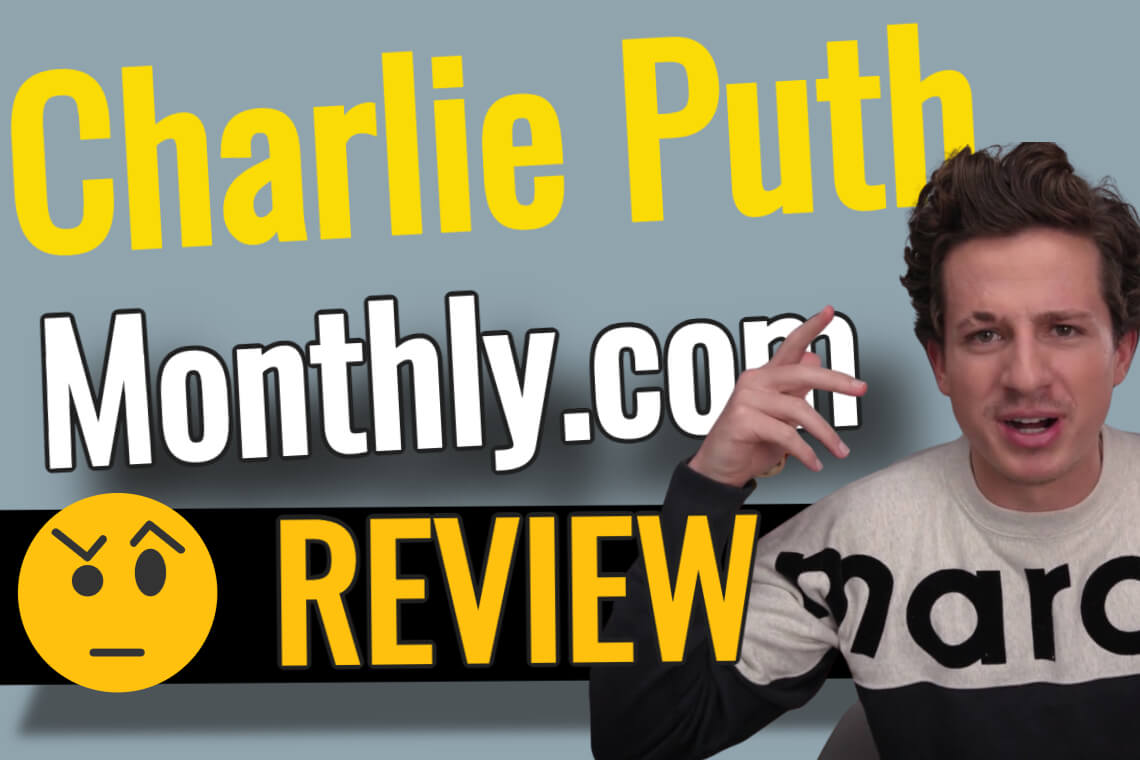 Charlie Puth Monthly.com Review Songwriting Secrets Exposed
Charlie Puth Monthly.com Review | Pop Songwriting & Production
Become a better songwriter and producer in 30 days. During this one-month class, learn and practice Charlie Puth's entire creative process. Finish the class with 2 release-ready songs you'll want to share.
Produce 2 release-ready songs in 30 days Charlie Puth teaches you everything he knows in this one-month class, transforming the way you make music. Immerse yourself in Charlie's unique creative process and leave the class with 2 release-ready songs of your own, and a new set of lifelong songwriting and music production skills.
Other Monthly Classes:
Charlie Puth Monthly.com Review
Level up your songwriting and production skills during this 30-day class, learn the full set of songwriting and production skills Charlie Puth uses to create his music. This class meets you where you are and pushes your skills to a whole new level.
Use my invite link to get a discount for Monthly.com
Song #1 – Charlie Puth FundamentalsFor Song #1, Charlie walks through his unique, end-to-end process for writing and producing music: Composing chord progressions, recording vocals, stacking harmonies, producing instruments parts, and everything in between. You'll follow along with Charlie step-by-step to create your own original song.
Song #2 – Exploring New Sounds and StylesFor Song #2, Charlie demonstrates how he evolves as an artist and producer by experimenting with uncharacteristic sounds and styles. He produces a second song, challenging himself to go outside his comfort zone. You'll also follow this process, creating another original song that expands your creative range.
Charlie Puth Monthly.com FAQ's
Who is this class for?
This class is for all skill levels, whether you're new to making music, an instrumentalist who wants to make your own songs, or a more experienced songwriter or producer looking to accelerate your growth and expand your skills. The projects are designed so that you can practice and learn on the edge of your own personal abilities.
If you're looking to immerse yourself in a month-long musical learning experience, level up your songwriting and production skills, and finish the class with two release-ready songs that you can share with your friends and family, this class is for you.
What is the time commitment and schedule for this class?
The time commitment for the class is around 5-10 hours per week for 4 weeks. This includes time for instruction and time for songwriting and production projects, feedback sessions, and other class work.
Depending on your schedule, you can budget about 1 hour every day during the month, or you can schedule a few longer sessions each week.
Either way, the class is designed to immerse you in the learning process, while still fitting into almost anyone's busy schedule.
What tools and equipment will I need for this class? Do I need to use Pro Tools?
The only thing you absolutely need for this class is a computer and some software to make music. This software (called your Digital Audio Workstation, or DAW) can be any option you prefer.
Charlie uses Pro Tools in the class, but you'll be able to apply the concepts he teaches within any DAW. If you're already comfortable with a DAW, Monthly.com encourages you to stick with that. If you want to follow along directly with Charlie, they recommend you use Pro Tools. Once you enroll, they will provide you with a full list of possible DAWs — both free options and paid options.
If you play an instrument, it will be helpful to have it on hand, though you'll be able to take the class even if all you have are the digital instruments that come with your DAW.
Once you're in the class, they let you know some of the other optional but nice-to-have gear like headphones and MIDI keyboards (including Charlie's preferred gear across the board).
Will I get direct feedback from Charlie Puth?
You'll be learning from Charlie during the lesson videos, but the feedback during class will be from your peers. Monthly.com designed the class so that you'll get thorough feedback from your peers at every step along the way. Your peer group will include songwriters and producers of all experience levels who will be there to answer your questions, troubleshoot, and give advice and support throughout the class.
What is the refund policy?
If for any reason you don't want to take the class anymore, get 100% of your money back if you request it within the first 5 days of the class. You can process your refund directly in your account settings.
More About Charle Puth
Charlie Puth (YouTube) | Charlie's Website
Recent Posts: