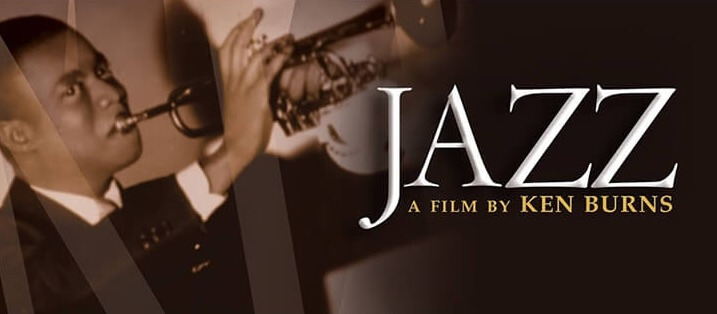 Soundbreaking Jazz Documentary – Jazz A Film By Ken Burns
If you're familiar with Ken Burns documentaries like New York, The War, Prohibition, and many others, you already know this is the most in-depth history of jazz music documentary you will find. Six years in the making, Jazz: A Film By Ken Burns is a 19-hour must-watch "soundbreaking" series for any jazz or history fan.
Ken Burns celebrates Jazz music's soaring achievements, from its origins in blues and ragtime through swing, bebop, and fusion. The series blends 75 interviews with major artists, such as Wynton Marsalis and Dave Brubeck, and critics; more than 500 pieces of music; 2,400 still photographs; and 2,000 rare and archival film clips including performances by Louis Armstrong, Duke Ellington, Billie Holiday, Charlie Parker, Miles Davis, and many more.
Jazz: A Film By Ken Burns originally aired on PBS in early 2001. It's available on DVD with tons of extra features or online streaming. The movie, as well as a 20 track Best of Jazz CD, is available on Amazon
Related Posts:
NOTE: "We are a participant in the Amazon Services LLC Associates Program, an affiliate advertising program designed to provide a means for us to earn fees by linking to Amazon.com and affiliated sites."
Here's a break down of each episode:
Episode 1 "Gumbo" Beginnings to 1917
JAZZ begins in New Orleans, nineteenth-century America's most cosmopolitan city, where the sound of marching bands, Italian opera, Caribbean rhythms, and minstrel shows fills the streets with a richly diverse musical culture. Here, in the 1890s, African-American musicians create new music out of these ingredients by mixing in ragtime syncopations and the soulful feeling of the blues. Soon after the start of the new century, people are calling it jazz.
Episode 2 "The Gift" 1917 – 1924
Speakeasies, flappers, and easy money – it's the Jazz Age, when the story of jazz becomes a tale of two great cities, Chicago and New York, and of two extraordinary artists whose lives and music will span almost three-quarters of a century – Louis Armstrong and Duke Ellington.
Episode 3 "Our Language" 1924 – 1929
As the stock market continues to soar, jazz is everywhere in America, and now, for the first time soloists and singers take center stage, transforming the music with their distinctive voices and the unique stories they have to tell.
Episode 4 "The True Welcome" 1929 – 1934
In 1929, America enters a decade of economic desperation, as the Stock Market collapses and the Great Depression begins. Factories fall silent, farms fall into decay, and a quarter of the nation's workforce is jobless. In these dark times, jazz is called upon to lift the spirits of a frightened country and finds itself poised for a decade of explosive growth.
Episode 5 "Swing" Pure Pleasure" 1935 – 1937
As the Great Depression drags on, jazz comes as close as it has ever come to being America's popular music, providing entertainment and escape for people down on their luck. It has a new name now – Swing – and for millions of young fans, it will be the defining music of their generation.
Episode 6 "Swing: The Velocity of Celebration" 1937 – 1939
As the 1930's come to a close, Swing-mania is still going strong, but some fans are saying success has made the music too predictable. Their ears are tuned to a new sound – pulsing, stomping, suffused with the blues. It's the Kansas City sound of Count Basie's band and it quickly reignites the spirit of Swing
Episode 7 "Dedicated to Chaos" 1940 – 1945
When America enters World War II, jazz is part of the arsenal. In Europe, where musicians like the Gypsy guitarist Django Reinhardt continue to play despite a Nazi ban, jazz is a beacon of hope. In America, it becomes the embodiment of democracy, as bandleaders like Glenn Miller and Artie Shaw enlist, taking their swing to the troops overseas.
Episode 8 "Risk" 1945 – 1955
The postwar years bring America to a level of prosperity unimaginable a decade before, but the Cold War threat of nuclear annihilation makes these anxious years as well. In jazz, this underlying tension will be reflected in the broken rhythms and dissonant melodies of bebop, and in the troubled life of bebop's biggest star, Charlie Parker.
Episode 9 "The Adventure" 1956 – 1960
In the late 1950s, America's postwar prosperity continues, but beneath the surface run currents of change. Families are moving to the suburbs, watching television has become the national pastime, and baby boomers have begun coming of age. For jazz, it is also a period of transition when old stars like Billie Holiday and Lester Young will burn out while young talents arise to take the music in new directions.
Episode 10 "A Masterpiece by Midnight" 1960 – 2000
During the Sixties, jazz is in trouble. Critics divide the music into "schools" – Dixieland, swing, bebop, hard bop, modal, free, avant-garde. But most young people are listening to rock 'n' roll. Though Louis Armstrong briefly outsells the Beatles with Hello Dolly, most jazz musicians are desperate for work and many head for Europe, including bebop saxophone master, Dexter Gordon.
DVD Additional Features: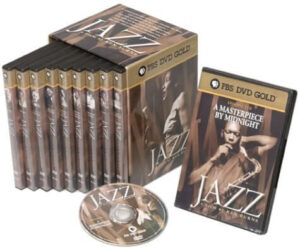 The DVD version of Jazz offers a "music information" mode, in which the title of a song is displayed when it is played in the film. Pressing the Title button jumps the viewer out of the film to a screen that lists that song's composer, performers (including all band members, not just the headliner), year of recording, and album and record company information when applicable (and no, all the credits are not to the series' own CDs). Another click of the Title button returns the viewer to the film. When music information mode is turned off, song titles are not displayed but the Title button still accesses the song credits. Each DVD's scene-selection menu lists only the 10 subchapters, but in fact, each song is individually tracked (50 to 80 tracks per DVD).
More DVD Special Features:
Documentary "Making of Jazz" (16 minutes)
Playlist information for over 500 songs
Three full-length performances not seen in the film: Louis Armstrong's "I Cover the Waterfront" (1933), Duke Ellington's "C Jam Blues" (1942), and Miles Davis's "New Rhumba" (1959)
Music and photo credits
Final Toughts
This is the most in-depth documentary on the history of jazz you will ever watch. I watched the streaming version, but I think I'm going to get the DVD set for all extra features.
My only concern is that nine of the ten episodes focus on jazz's development prior to 1960, leaving just one episode to four decades of the music's more experimental stages, from post-bop to soul-jazz to fusion to jazz-funk and beyond.
"We are a participant in the Amazon Services LLC Associates Program, an affiliate advertising program designed to provide a means for us to earn fees by linking to Amazon.com and affiliated sites."
Comments:
If you have any suggestions, questions, or just want to say hi, feel free to leave a comment below. And if you like this post, please like it on Twitter, Facebook, G+ or other social networks.