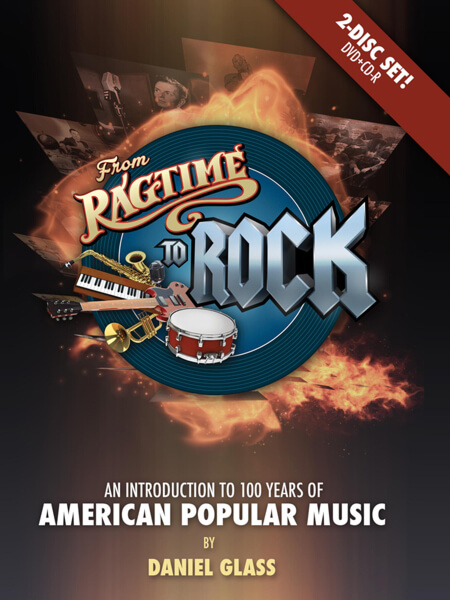 From Ragtime To Rock Documentary – An Introduction to 100 Years of American Popular Music
From Ragtime to Rock is an educational DVD from award-winning drummer, author, and educator Daniel Glass. This 2-disc package offers a sweeping look at 100 years of music evolution, covering the end of the Civil War (1865) to the dawn of the British Invasion (1965). The goal? To show musicians and music students here in the 21st Century just how much they have in common with the past. Includes teaching guides and reproducible activity sheets for students at the Junior High, High School, and College levels.
The enthusiasm for history and the dedication to preserving said history that Daniel Glass displays, Ragtime to Rock is of the same caliber as The Century Project(history of the drumset) & TRAPS movies.
Ragtime to Rock covers the following musical eras:
– Brass Bands/March Music
– Ragtime/Syncopation
– Early Jazz (New Orleans)
– Blues and Blues Singers
– 1920s Jazz (Chicago-style)
– Great American Songbook
– Big Band Swing
– Bebop Jazz
– Rhythm & Blues
– Country/Rockabilly
– Early Rock'n'Roll
– The British Invasion
The Swing Era Teaser
To bring this fascinating story to life, Ragtime to Rock incorporates eight high-energy performances from an all-star band featuring members of Royal Crown Revue, the Brian Setzer Orchestra, the Michael Buble band, Conan O'Brien's house hand, and Bette Midler's "Kiss My Brass" Revue.
Check out this Swing Era Teaser
 Rock and Roll Teaser
In addition to a 100+ minute video, this package includes a 69-page eBook that contains reproducible sets of Teacher/Student Guides and Activity Sheets.
Available as a 2-Disc DVD, Get it here.
If you have any suggestions, questions or just want to say hi, feel free to leave a comment below. And if you like this post, please like it on Twitter, Facebook, G+ or other social networks.