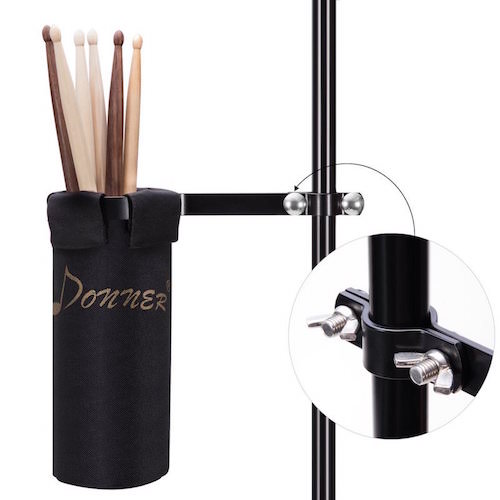 Donner Percussion Stick Bag Drumstick Holder Review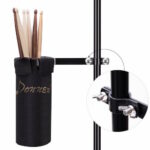 Donner has proven to be a quality company in the guitar pedal market over the last few years. I own about two dozen of their guitar pedals, 2 of their ukulele's, and their Wireless Bluetooth Page Turner, so I was excited to get their inexpensive Percussion Stick Bag / Drumstick Holder on Amazon.
I use the percussion stick bag/drumstick holder on my electric drum kit.
It can be tricky adding this percussion stick bag to an electronic drum kit rack, but it fits nicely on my hi-hat stand and of the way of playing, as you can see in the video below. It's made out of aluminum alloy and nylon and the nylon bag detaches by velcro for easy cleaning.
How many Sticks will it hold?
You can hold about 10 pairs of drum sticks conveniently within reach. This handy accessory is extremely helpful to have for any percussionist, drum kit or orchestral player. The heavy-duty clamp ensures that your bag stays in place, and the reinforced aluminum alloy framework of the holder is durable for even the toughest of road warriors.
Final Thoughts:
For the price you really can't go wrong, it would be nice to have the option to tilt the drumstick holder. At the time of writing this post, it has a 4.9 out of 5 stars review on Amazon.
You can get one on Here.
Latest: Donner Discount Codes
Related Posts:
What are the Best Drumsticks For Electonic Drums?
Have you seen The History of The Drum Set?
Comments:
Any suggestions or questions? Feel free to leave a comment below. And if you like this post, please like it on Twitter, Facebook, G+ or other social networks.