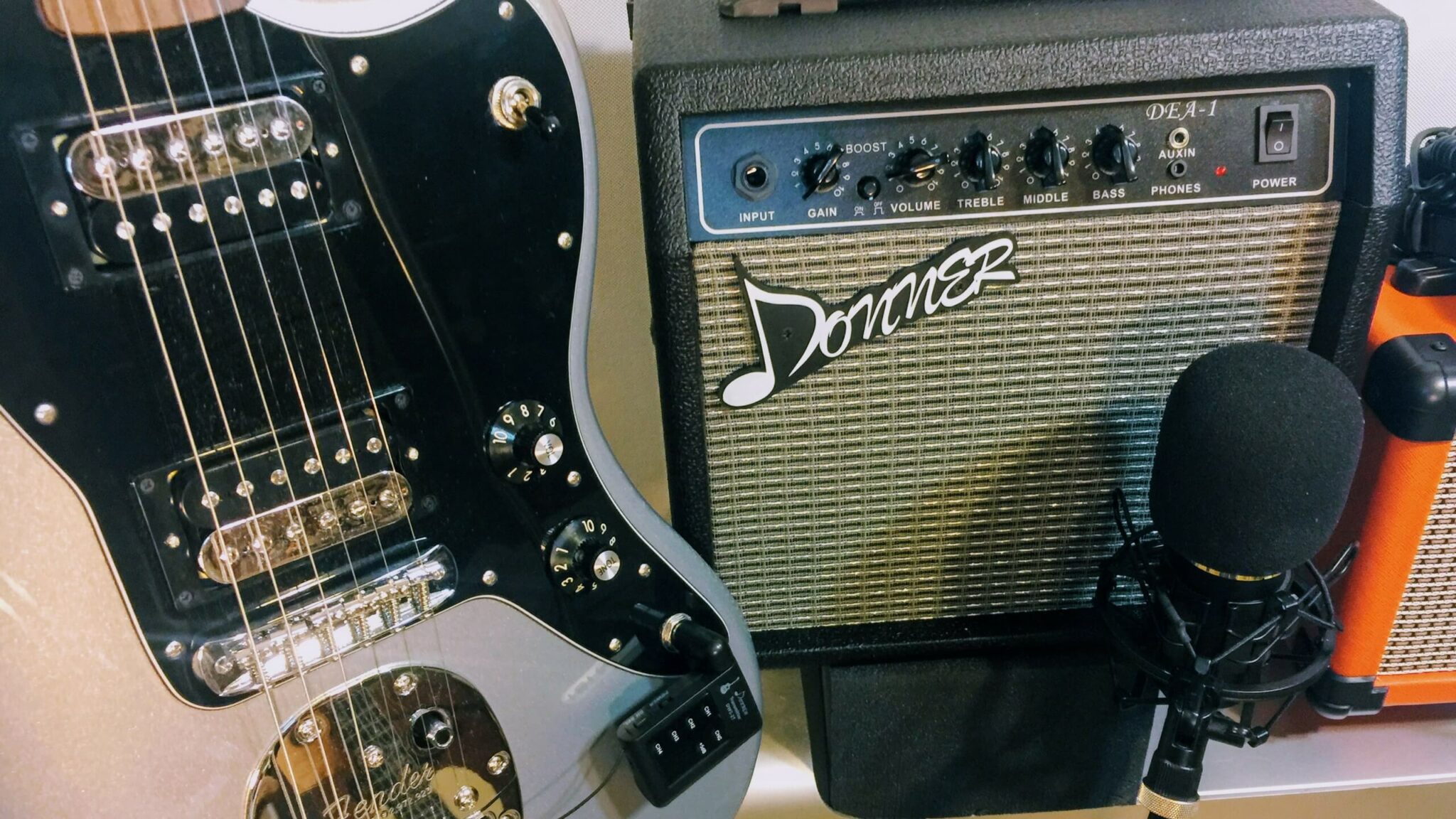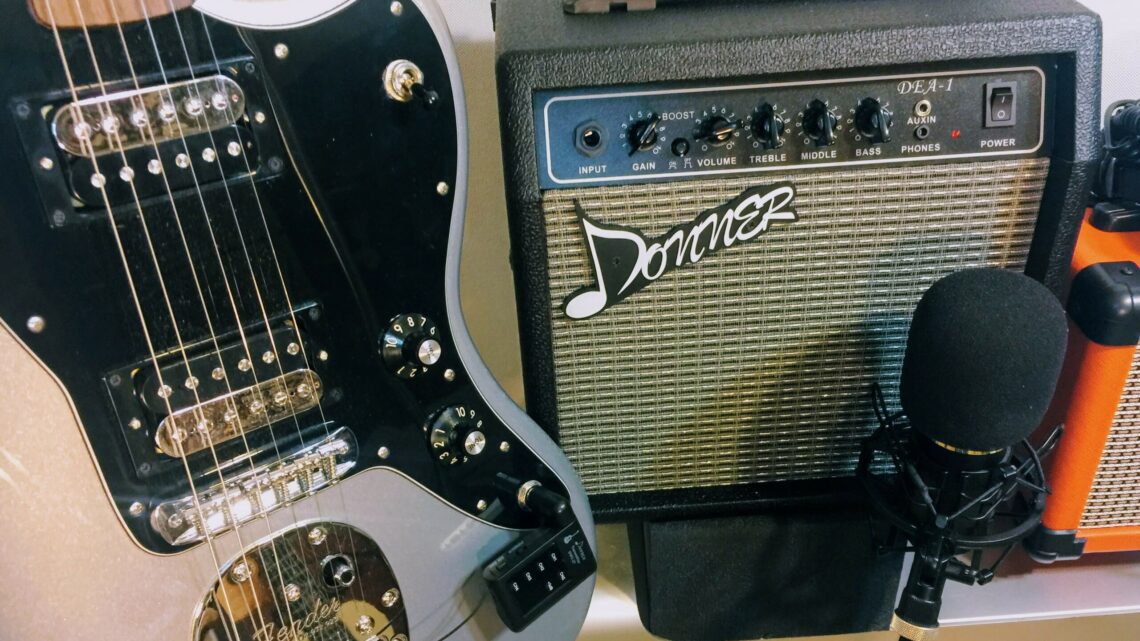 Donner DEA-1 Guitar Amp Full Video Review
Donner DEA-1 Amp Full Video Review
The Donner DEA- 1 is an inexpensive 10 Watt, two-channel electric guitar amplifier with a three-band EQ, aux in, and headphone line out. It has a classic "Blackface" design: silver grille cloth, black chicken head knobs with a similar look to classic Fender amps. It's only 10.9 pounds and has a closed-back design for heavier bass response.
The DEA-1 is Donner's first guitar amp, at a size of 12×12, and is geared towards beginners and the practice amp market. Let's take a look at the features and demo some sounds in the video below.
Related Posts:
Donner DEA-1 Amp Review 10 Watt Electric Guitar Amplifier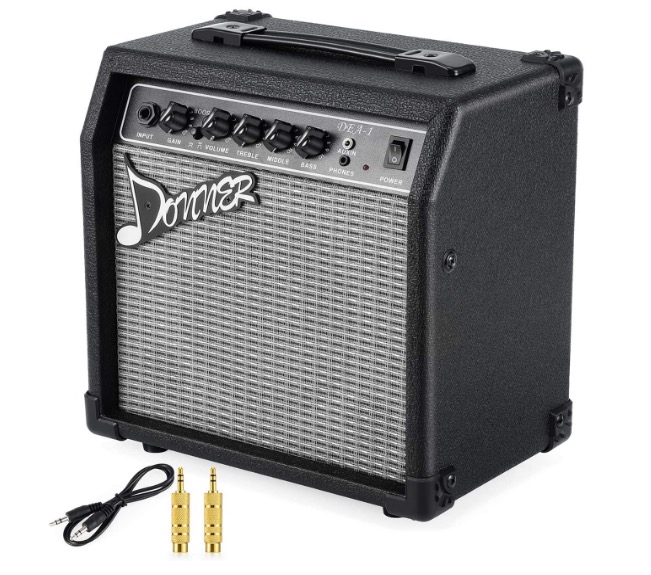 DEA-1 Features
The DEA-1 features a 6.5-inch Special Design speaker and selectable gain control that can rock guitar tones.
Clean and Boost Channels
Clean and Boost, The clean mode operates like a normal clean amplifier, while the booster channel gets things loud. Even on the clean channel, this thing can get very loud. It also works great with overdrive and distortion pedals. I prefer using my pedals over the dirty channel as I can control the volume much better and get a wider range of dirty tones.
Three Band Equalizer
The treble, middle, and bass controls are your basic guitar amp EQs to help shape the high and low frequencies of your guitar tone.
Headphone/Line Output
The combination line out/headphone out features speaker cabinet emulation, giving you full Donner sound when recording or practicing through headphones (when a jack is inserted into the socket the unit's speaker is muted). I created a second video demo of the direct line out into Logic Pro X (see below)
Line Input
The 3.5mm MP3 / Line In socket allows the connection of an external audio source, such as an MP3 or CD player. Plug it in and play along.
Accessories
The Donner comes with two quarter-inch to eighth-inch adapters as well as an aux eights inch cord. The power cord for the amp is non-detachable.
Donner Electric Guitar Amp DEA-1 Video Review
Video Details:
In this video, I use an inexpensive FZONE BM-800 Condenser Microphone with Shock Mount + Foam Cap mic recorded directly into a Focusrite Saffire Pro 40 Firewire audio interface into Logic Pro X. No other audio processing was done inside Logic Pro before or after recording. What you hear is what you get.
My ax of choice for this test was a Fender Jazzmaster HH with open-coil blacktop humbuckers pickups that also can be coil split and Donner's DWS-2 Wireless System (guitar to pedalboard). By the way, The Fender Jazzmaster HH is an awesome versatile guitar. I got this one used on Reverb.com at a steal. I changed the vol and tone knobs to witch hat knobs.
I got some very nice clean sounds and dirty sounds by just using the Donner Amp's clean and gain/boost channels. Although I prefer using pedals for dirtier tones.
I used the following pedals in the video: The Donner Yellow Tail Delay, The Xvive Golden Brownie (a vintage Marshall JCM 800® in a box), a Danelectro FAB Overdrive, and Metal Head from the Donner Nano Series.
I also used The Ammoon PockRock Guitar Multi-effects Processor and got pleasing results.
With the pedals and the PockRock unit, I was able to achieve high gain sounds at low volume levels plus add in reverb, tremolo, delay, and many other sounds with pleasing results.
Headphone/Line Out Direct Recording Demo
After writing my first review and making my first video I decided to do another recording test using the headphone output of the Donner DEA-1 direct into Logic Pro X. I'll be adding this demo here soon.
Who is the Donner DEA-1 Amp For?
The Donner DEA-1 electric guitar amplifier is for beginner guitarists and anyone looking for a decent mini guitar amp for practice or recording at low volumes. You could problem even take it a gig smaller venues if you're going to mic it up. I could see it working in smaller venues: coffee shops, although I haven't tested it in a live situation
Is it Protrible and does it take Batteries?
At only 12×12 and at about eleven pounds it's very portable. It doesn't take batteries, it has a non-removable power cord connected to the back of the amp.
Can I Use The Donner DEA-1 With Effect Pedals?
Yes, the Donner DEA-1 electric guitar amplifier works great with all the overdrive, distortion, modulation: chorus, delay, flangers, reverb, and other effect pedals I tested it with. If you haven't checked out my video review above, please do so and you can hear for yourself. I prefer to use it with pedals and even the very inexpensive Ammoon PockRock Guitar Multi-effects Processor.
Can I Use The Donner Electric Guitar Amp DEA-1 With A Bass Guitar?
No. I would not recommend it. I would recommend getting a dedicated bass amp for your bass guitar.
Donner Electric Guitar Amp DEA-1 Summary
In summary, I think this is a great practice amp at a very affordable price. It would be good for a beginner when so you don't have to buy higher-end equipment, but also not getting something so cheap or poor quality that it discourages them from learning.
I also think it's nice for intermediate players looking for a practice amp that they can easily keep in a bedroom or tote around to jam sessions. It looks nice enough, and the construction quality makes it feel plenty durable.
Where to Buy
You can buy the Donner Electric Guitar Amp DEA-1 BUY Here
Note: "We are a participant in the Amazon Services LLC Associates Program, an affiliate advertising program designed to provide a means for us to earn fees by linking to Amazon.com and affiliated sites."
The review above and rating system below is based on this being a beginner to intermediate player guitar. Donner provided me with this guitar for review.
This review originally appeared on another website that I run that is no longer available.