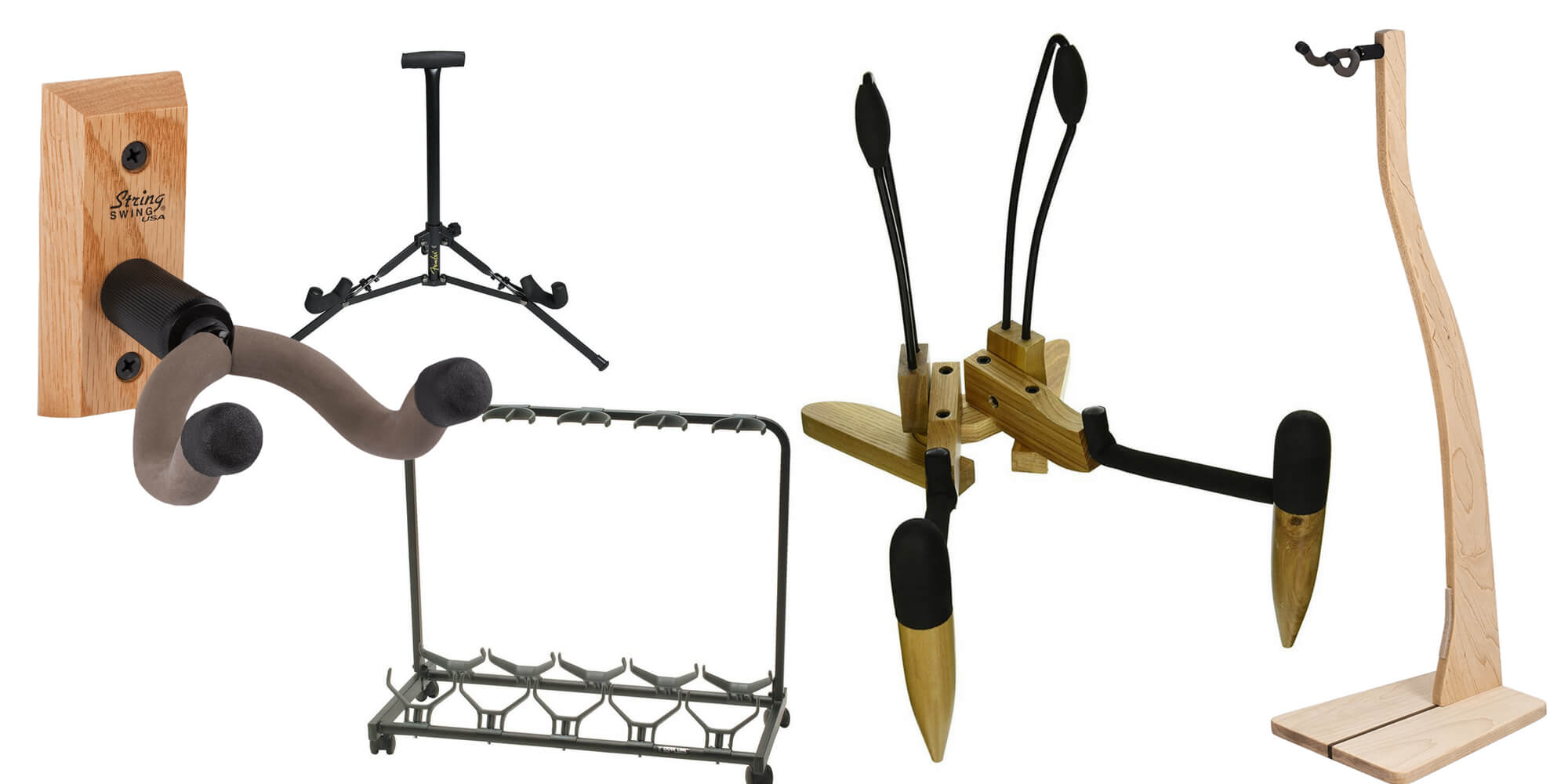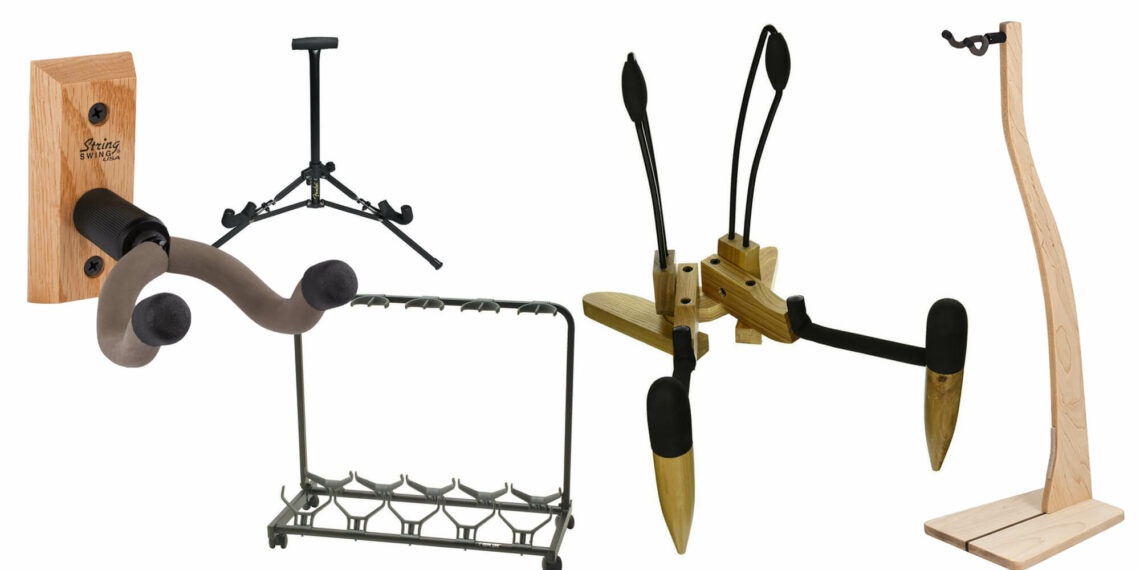 13 Best Guitar Stands – Wall Hangers & Mounts – Full Video
If you own one or many guitars, it's always a good idea to have a few guitar stands, cool wall hangers, or some other kind of way of showing off your guitars while not in use. These cover everything from quick folding guitar stands, guitar stands for multiple guitars, over-the-door wall hanging guitar stands, and more. These are all the guitar stands I use and love.
I have a lot of guitars and a lot of different kinds of guitar stands and hangers. Each stand/hanger is unique and serves a different purpose.
Related Posts:
"We are a participant in the Amazon Services LLC Associates Program, an affiliate advertising program designed to provide a means for us to earn fees by linking to Amazon.com and affiliated sites."
This Blog Post originally appeared on another website that I run that is no longer available.
Guitar Stands And Wall Hangers
This video shows a quick overview of each guitar stand I own and use. I've listed the stands and wall hangers in order of appearance in my video.
The Guitar Hanger -1001, Original Closet Review
Fender Mini Acoustic Guitar Stand Review
Zither Wooden Guitar Stand
Stageline GS550A Wooden Guitar Stand
Guitar Door Hanger
Quik Lok GS-450 Guitar Stands and Display
String Swing CC01KOAK Hardwood Home & Studio Guitar Hanger
Planet Waves Guitar Dock
Planet Waves Guitar Rest
String Swing Ukulele, Violin or Mandolin hanger for Mic Stands and Music Stands (not in main video – demo in the separate video below
And a few extra
The Guitar Hanger -1001
Although I only have one of The Guitar Hanger -100, this is one of my favorite ways of hanging my guitar(s). These are designed to be hung in a closet, but I display mine with an over-the-door hanger. The Guitar Hanger -1001 is robust, durable and well put together. The guitar hanger part easily rotates to accommodate your guitar or bass headstock. Seen holding my Fender Jaguar HH in the video.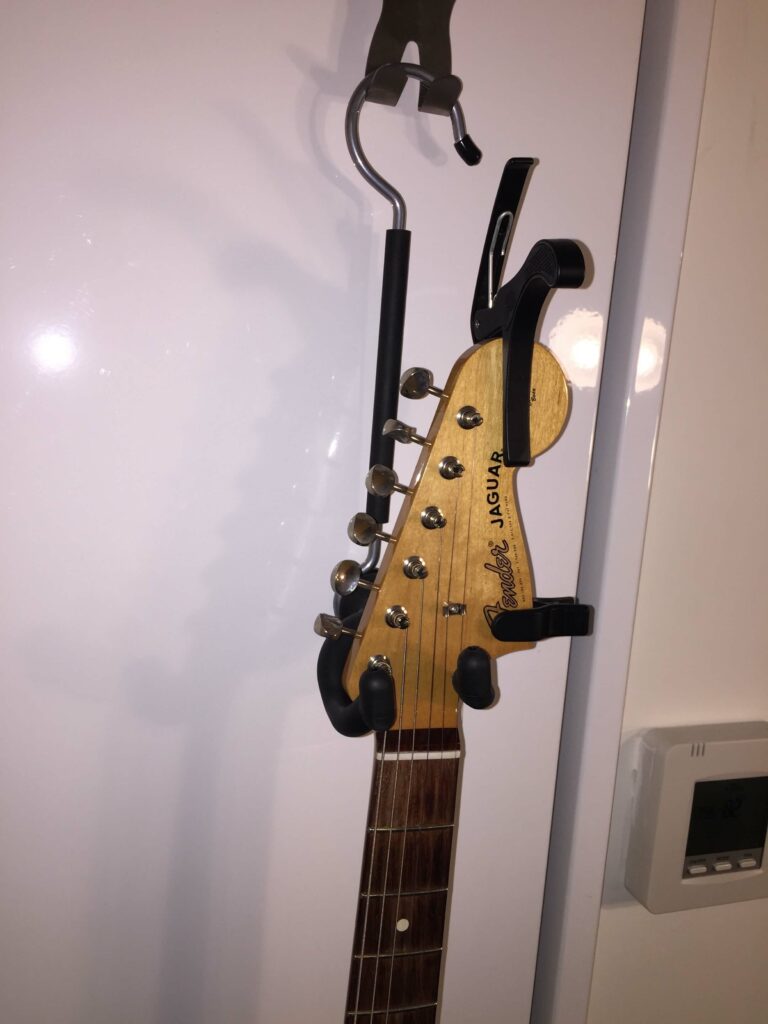 Products Description: The Guitar Hanger – Guitar Stand: This makes storing your guitar as easy as hanging up a shirt. Whether for the touring professional or the student just starting, The Guitar Hanger gives you quick and easy access to your instrument. Instead of storing it on a conventional guitar stand, The Guitar Hanger allows you to keep your guitar anywhere with a closet rod. The non-mechanical locking swivel yoke will enable it to hang vertically while holding it securely in place. Great gift idea! It even fits The Guitar Hero.
Get The Guitar Hanger -1001, Original Closet Here
Fender Mini Guitar Stand Review
Another excellent and easy-to-use guitar stand by Fender folds up easily and is lightweight. Great to take to a gig. Great for electric guitars but not Offset guitars such as Jazzmasters, Jaguar's Jazz basses, or any other offset guitar. I have many of these stands. There is also a version made for acoustics.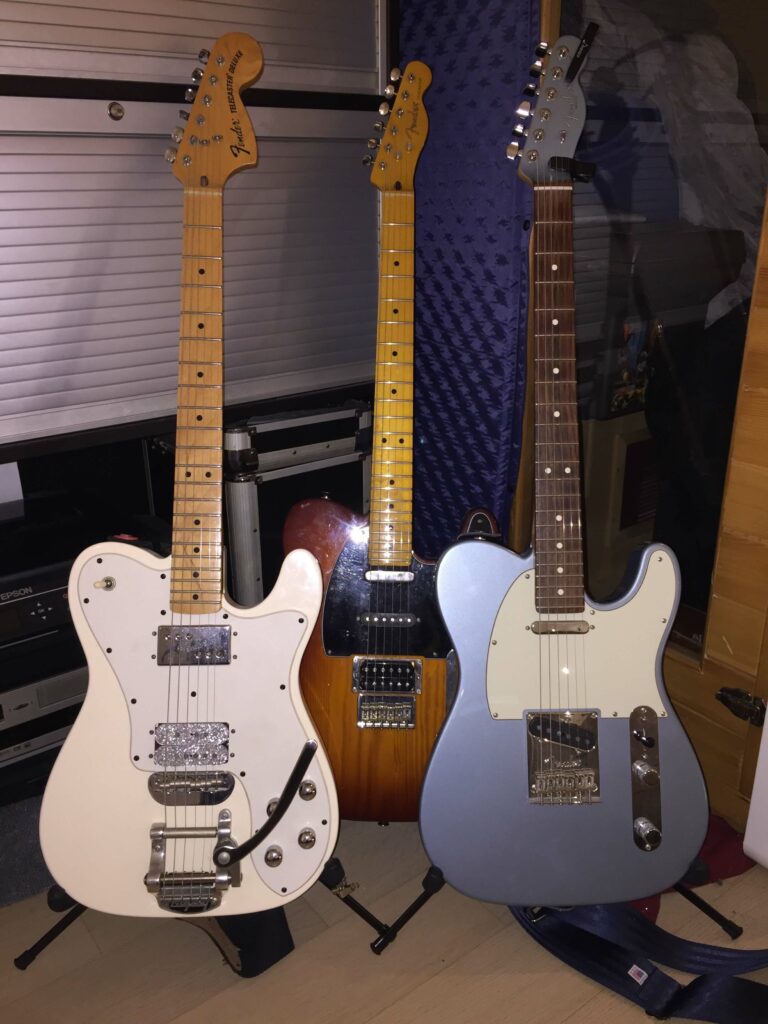 Description: The Fender Mini Guitar Stand is a "must-have" extremely lightweight, compact, and portable. It folds up small so that you can bring it in your gig bag, guitar case, or tuck it in the back of your amp, but when you open it up, it will securely and stably hold your guitar or bass with a rock-solid performance!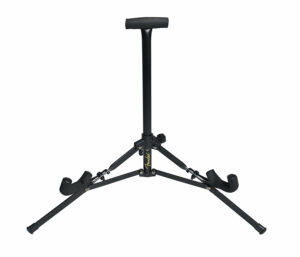 Get The Fender Mini Guitar Stand Here
Zither Wooden Guitar Stand – Handcrafted Wood Floor Stands
The Zither Wooden Guitar Stand is a very nice-looking and cool guitar stand/hanger and will add a bit of flair to your home or your music room. This stand is durable and elegant and is made for electric, acoustic, and bass guitars. They also have bass, ukulele, violin, cello, and saxophones models. I have the natal un-stained version, but it comes in many other finishes.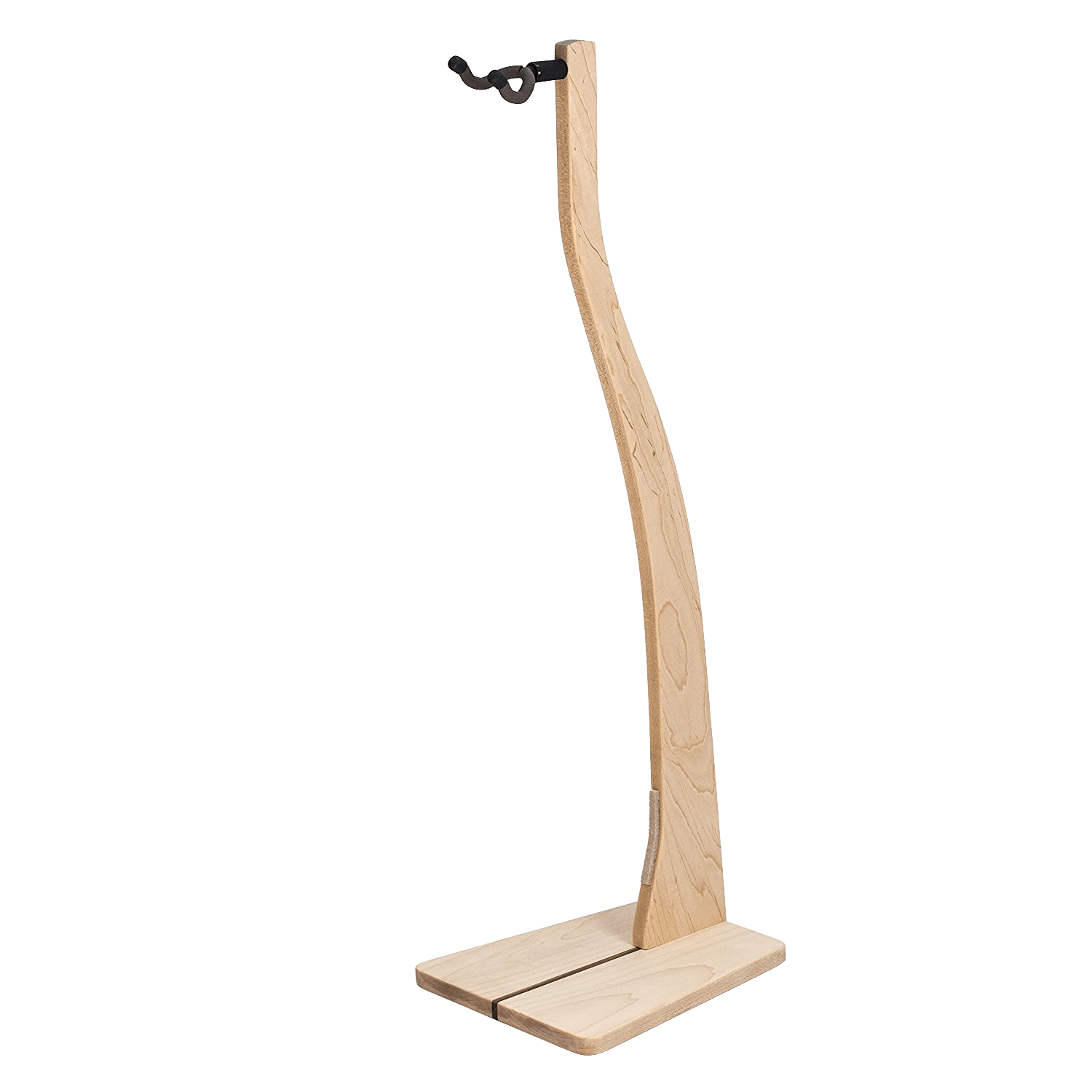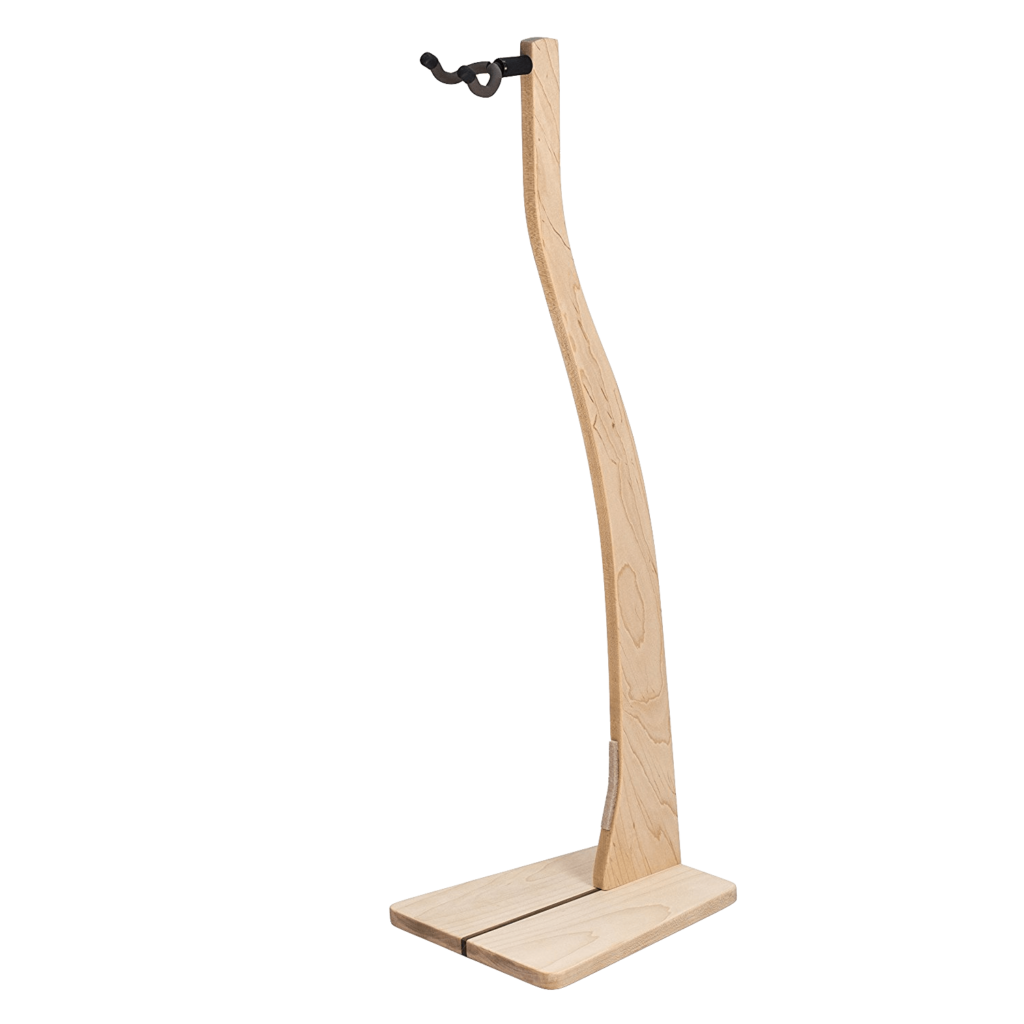 Available in Cherry, Mahogany, Walnut, Maple, Padauk, Purple Heart, Black Satin Lacquer, Red Oak
What separates Zither Stands from the competition? 
It's simple. Our stands are handcrafted in the USA. The solid wood pieces are fashioned deep in the heart of Texas, from premium grade hardwood stock. The cradle where your guitar rests is a USA-made String Swing cradle, the finest available.
The construction is solid. The design is beautiful. You will not have to worry about it harming your guitar's finish. Because of this, we're able to make our 100% Happiness Guarantee. If you don't love this stand – for any reason – pack it back up in its box and ship it back. We will immediately refund your entire purchase price. 
"Best In Show" Winter NAMM 2015, "Best in Show" Summer NAMM 2016. So there is now a beautiful and secure way to display your instrument. Support your instrument.
Get The Zither Wooden Guitar Stand Here
Stageline GS550A Wooden Guitar Stand
The Stageline GS550A Wooden Guitar Stand is to show off your acoustic in your home or on stage.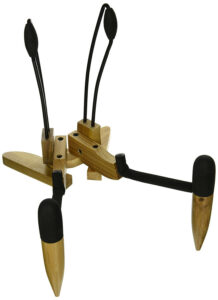 These wooden stands have a unique style, attractive looks, and they come in a compact and sturdy design. The beautiful wood grain finish is highlighted by metal supports and black foam rubber padding. They provide a solid foundation for your guitar, then easily fold up and disappear into your guitar bag. Acoustic.
Get The Stageline GS550A Wooden Guitar Stand Here
Guitar Over The Door Hanger
– #1 Best Selling Guitar Door Mount Space-Saving Solution, No-Installation Required
I own four of these over-the-door hangers and love them. They are safe, durable, and stylish.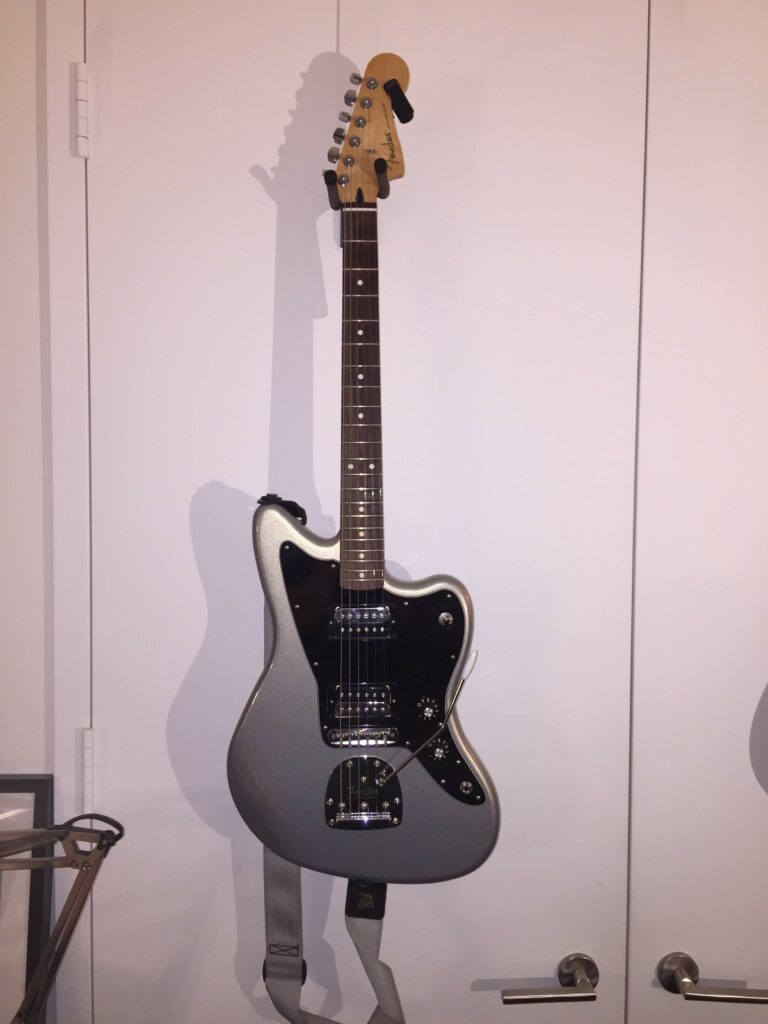 Guitar Hanger by DoorJamz is the #1 Best Selling Over-the-Door Guitar Display, will not touch when opening and closing the door! Will not damage walls like guitar wall hangers and wall mounts or take up valuable floor space like traditional guitar stands.
DoorJamz Guitar Hangers are made with high-quality steel, and real hardwood construction holds any guitar up to 12 lbs – built to last. Yoke pivots to adjust to any guitar headstock and fit on any studio or residential door (up to 1-7/8″ thick).
Advanced design features a patent-pending stabilization bar to minimize movement when opening and closing the door to prevent the guitar from touching the door. Includes steel hanger, stabilization bar, and guitar hook(with the spacer attached). MADE IN THE USA 100% Money Back Guarantee.
Get The Guitar Over The Door Hanger Here
Quik Lok GS-450 Guitar Stands and Display
I had the Quik Lok GS-450 Guitar Stand for over ten years now and it is defiantly worth it. There are models made for three, five, or seven guitars. I own the five guitar version and I can fit smaller instruments like mandolins and ukuleles and u bass in between the 5 guitars or basses on the stand.
Get the Quik Lok GS-450 Guitar Stands and Display Here
String Swing CC01KOAK Hardwood Home & Studio Guitar Hanger
If your walls can handle these, it is a great way to hang your guitars from your wall. The String Swing Guitar Hanger features exclusive tubing that will not mark the finish on your instrument. Its hardwood construction looks fantastic and is built to last.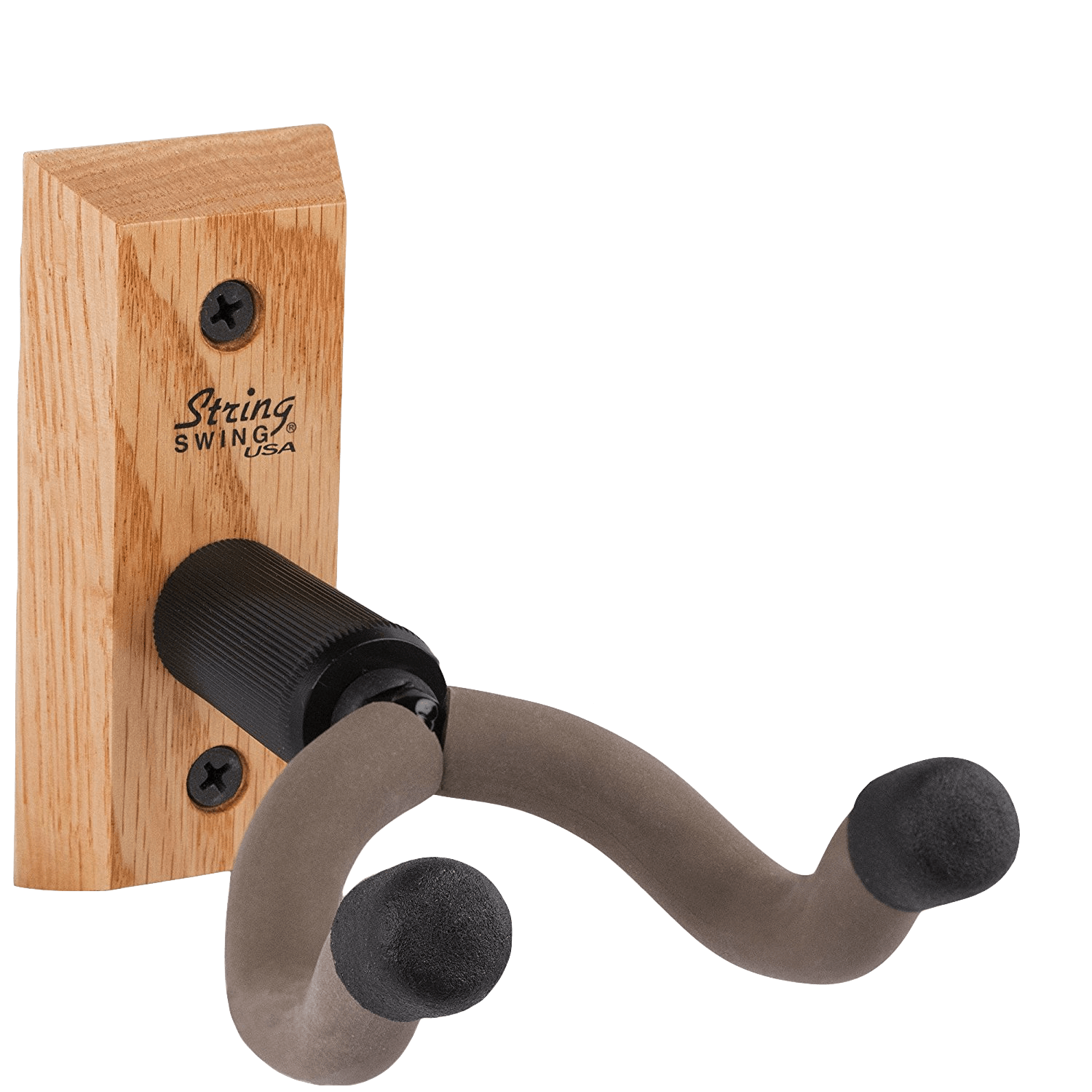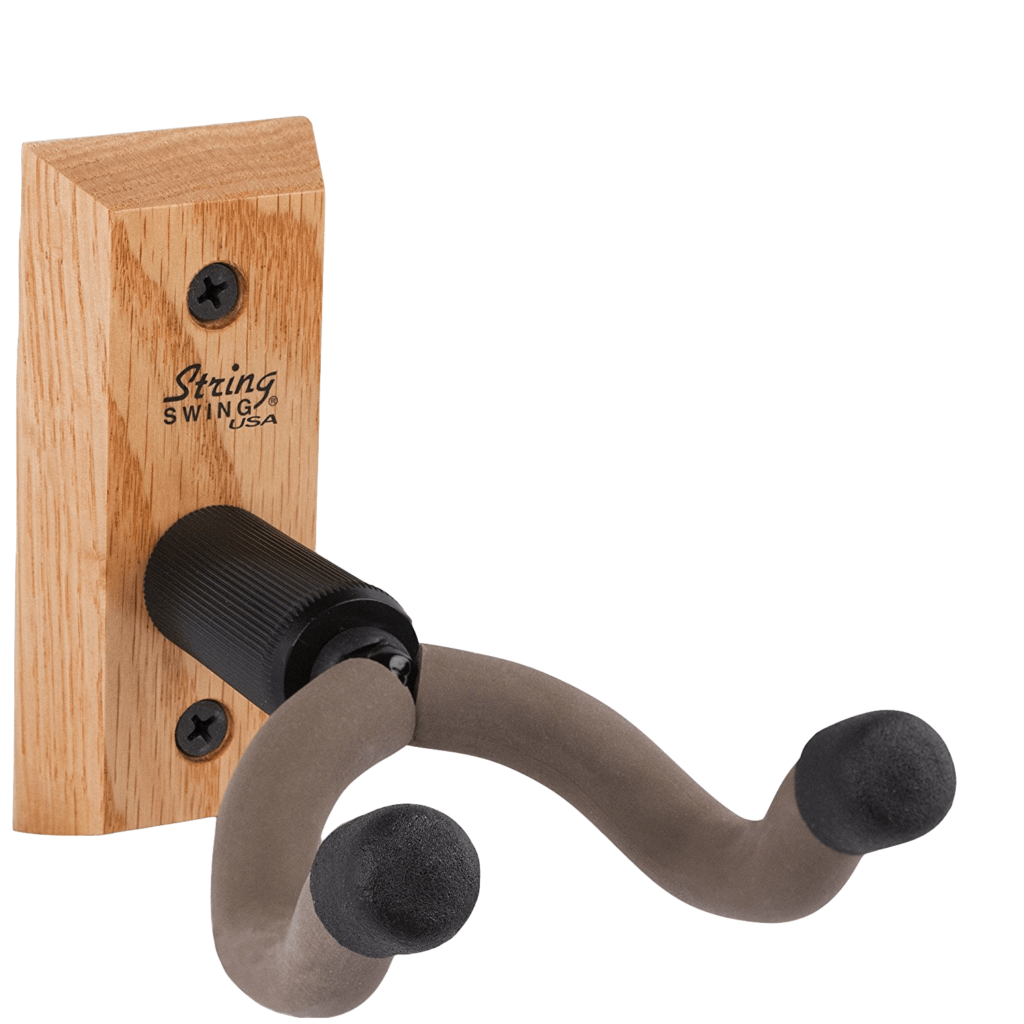 The yoke pivots to hold any headstock and is adjustable to any width. This hanger will display wide or narrow body instruments.
The box contains a block, yoke, two screws, and two drywall anchors.
Get The Studio Guitar Hanger Here.
Planet Waves Guitar Dock
The Guitar Dock by D'Addario/Planet Waves allows you to turn any surface with a flat edge into a secure instrument stand. When a conventional stand is unavailable or inconvenient, the Guitar Dock will protect your instrument from falls by clamping to most tables, chairs, workbenches, consoles, and amps.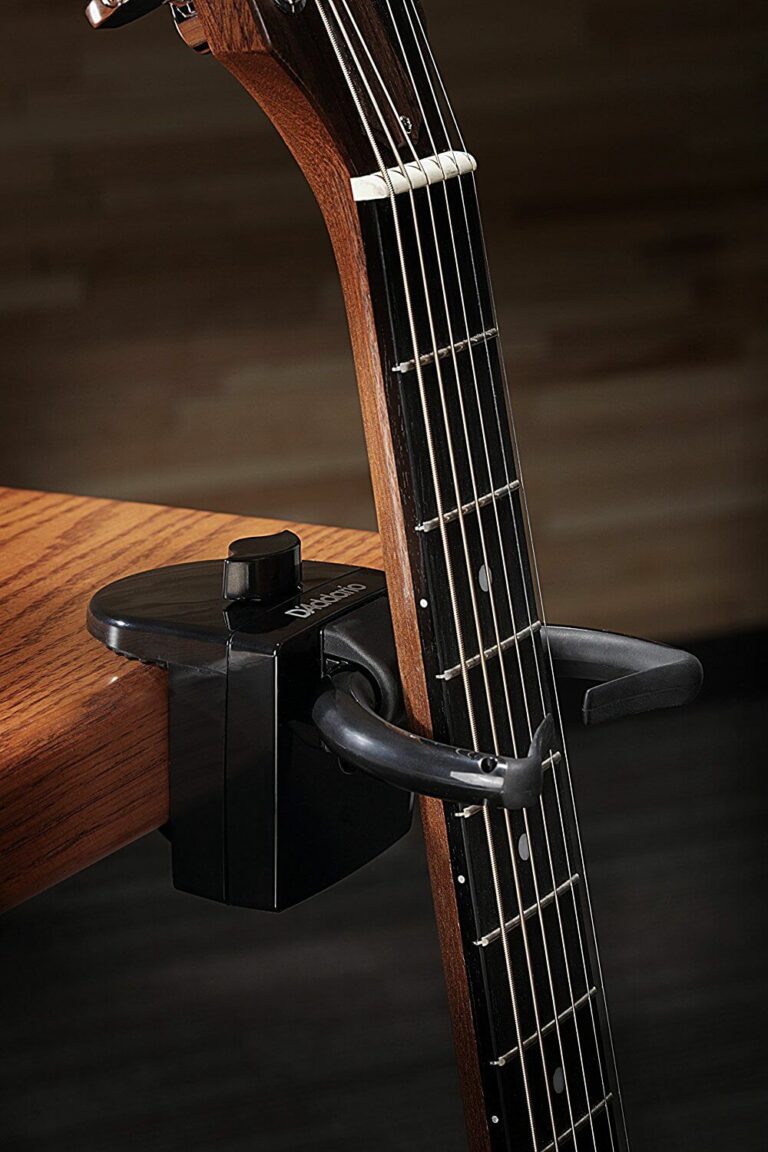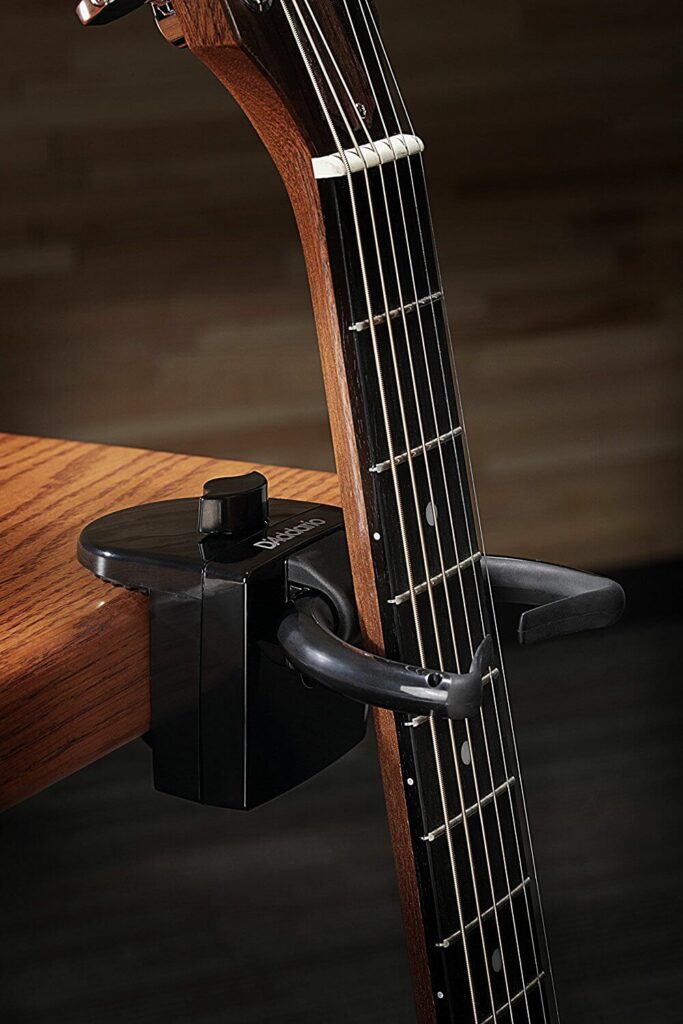 Planet Waves Guitar Rest
The Planet Waves Guitar Rest turns any flat surface into a guitar stand. Lay the Guitar rest over the edge of any level surface and lean your instrument against the "neck pocket" of the guitar rest. The surface friction of the guitar rest will resist movement on practically all surfaces.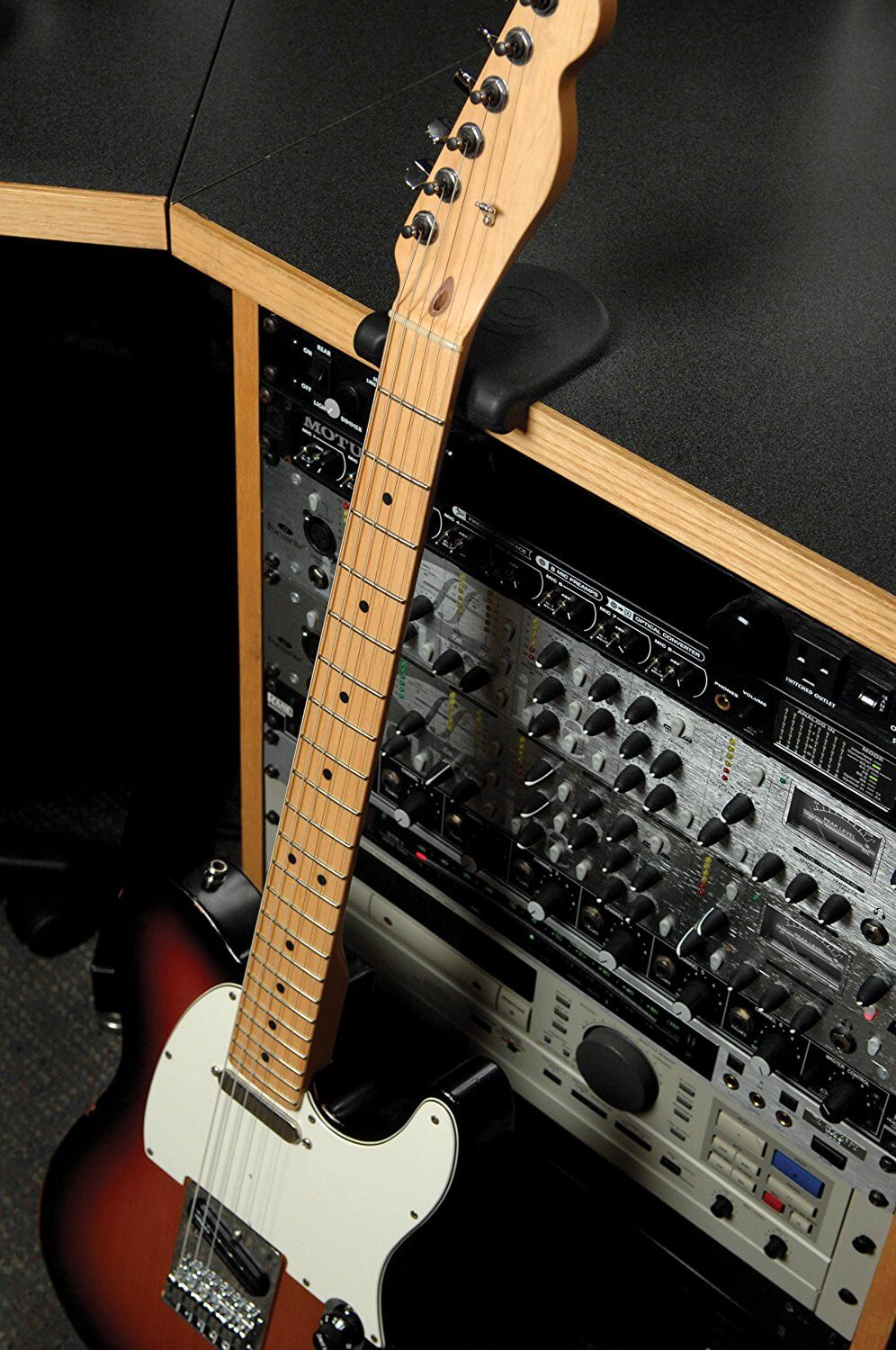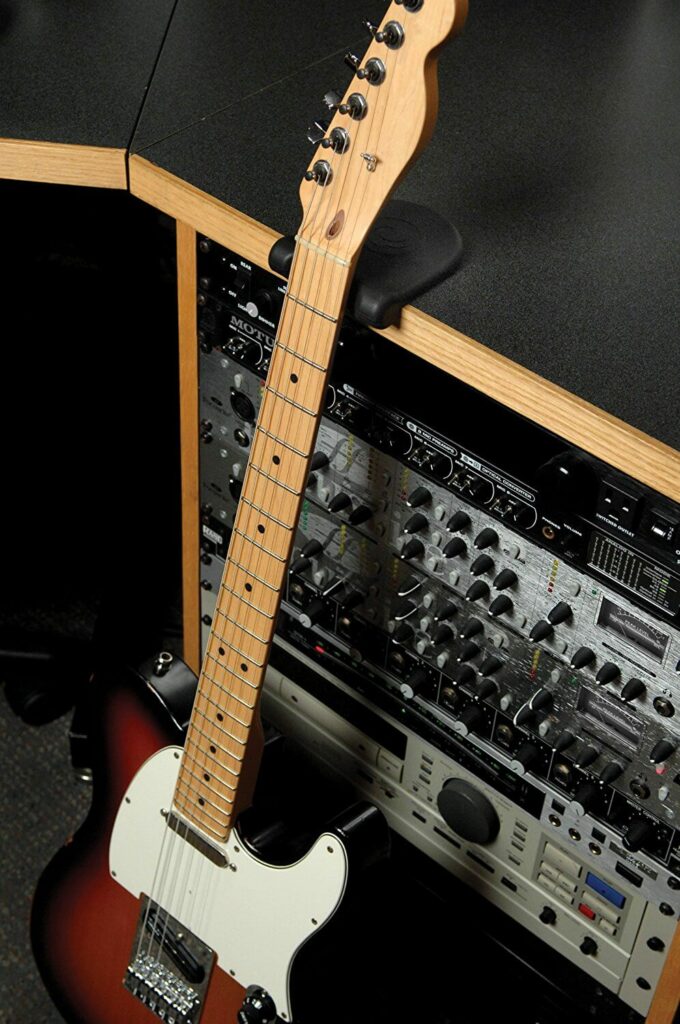 Check out the Planet Waves Guitar Rest Here.
Fzone Guitar Stand for Acoustic and Electric Guitars, Bass, Ukulele
Not mentioned in the video but I own a few of these and they are cool for other instruments like ukuleles and such. Check it out here. I own a few of these.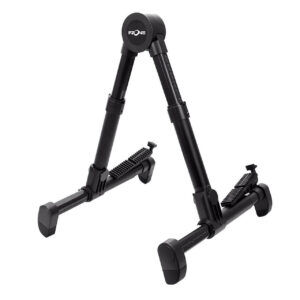 String Swing Ukulele, Violin or Mandolin hanger for Mic Stands and Music Stands
Designed for use on stage
Hang your instruments on your microphone stand or music stand during performance
Fits the top or bottom half of most stands
Works well with round bottom and tripod stands
Attaches to any pipe up to 1″ diameter
More detailed info and styles.
More
These are some stands that I don't personally own but thought I might get them someday.
Stagg GDC-6 Universal Guitar Stand for up to 6 Electric or 3 Acoustic Guitars
String Swing CC29 Folding Hardwood Guitar Case Rack. I don't own this one but it looks cool and I may have to try it in the future.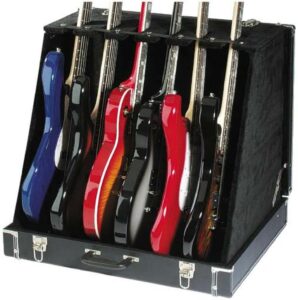 Furniture Quality Acoustic and Electric Guitar Case rack. Your guitars will look great in your studio, family room, study or great room.
Made in Wisconsin from responsibly harvested local Oak hardwood.
Quick assembly with only a screwdriver and lasts a lifetime. 30″ x 36″ x 13.25″
Folds flat for travel or storage
Backed by a lifetime structural warranty
Check out The String Swing CC29 Folding Hardwood Guitar Case Rack Here.