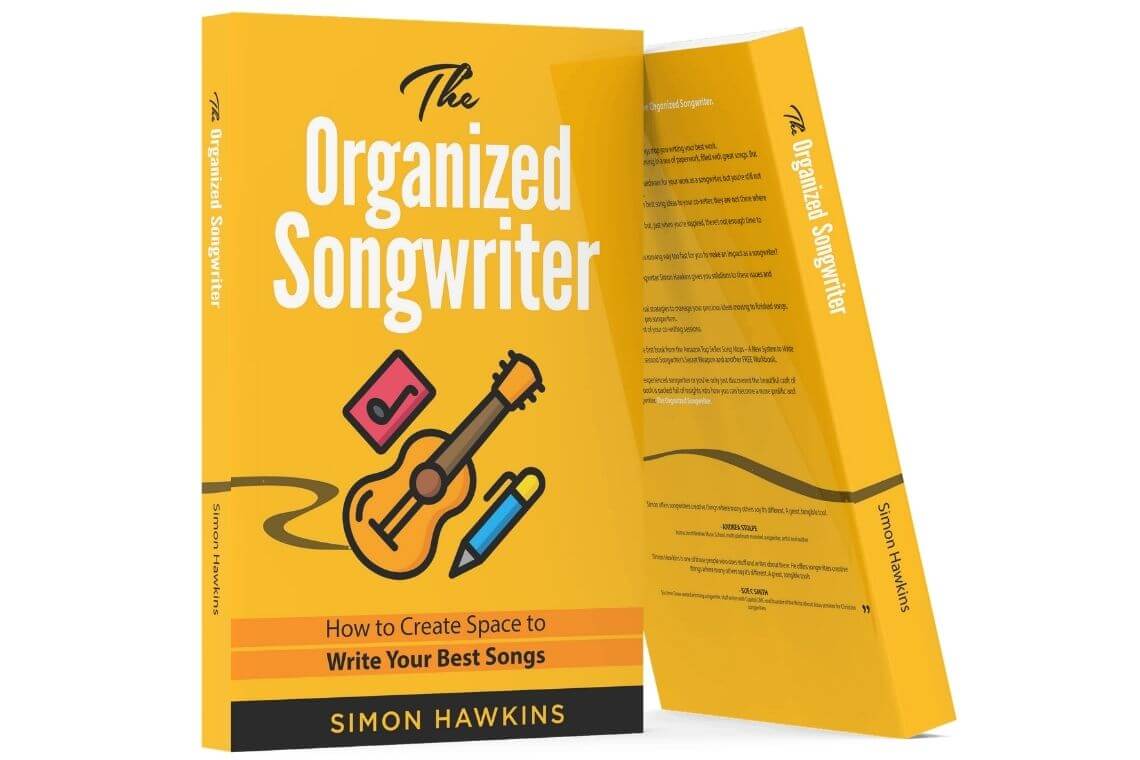 The Organized Songwriter: How to Create Space to Write Your Best Songs
The Organized Songwriter: How to Create Space to Write Your Best Songs
Time is short. Ridiculously short. As songwriters, there are a million things that try to take us away from our precious time doing what we love doing – the beautiful craft of songwriting. The Organized Songwriter: How to Create Space to Write Your Best Songs offers fresh insights to help you be more productive. Just like a pro.
Does any of this sound familiar?
You try to write a cool song, but a million things stop you from writing your best work
You need your best song ideas to introduce to your co-writer, but they are nowhere to be found
You've spent a fortune on software and hardware, but still not sure you've got the right tools you need to be a successful songwriter
Ultimately, do you worry that life is moving way too fast for you to make the impact as the songwriter you are called to be? In The Organized Songwriter, award-winning songwriter Simon Hawkins gives you solutions to these issues and more, including:
Well-developed professional ways to organize your precious ideas and songs
The tools of the trade for pro songwriters
Tips for making the most of your co-writing sessions
This book also builds on the foundation of Song Maps – a new system to write your best lyrics, with a second songwriter's secret weapon. Whether you're an experienced songwriter or you've only just discovered the beautiful craft of songwriting, this book is packed full of insights into how you can become a more prolific and successful songwriter. The organized songwriter.
SongwritersClubhouse.org: "We are a participant in the Amazon Services LLC Associates Program, an affiliate advertising program designed to provide a means for us to earn fees by linking to Amazon.com and affiliated sites." – Each of your purchases via our Amazon affiliation links supports our cause at no additional cost to you. Furthermore we only recommend products are readers would find valuable. More info on our Affiliate Disclosure Page.
The Organized Songwriter: From the Author
The Organized Songwriter is my second book, following my first #1 Best Seller, Song Maps: A New System to Write Your Best Lyrics. It's also based on a workshop I'd taught each year at a songwriter's seminar, called 'Getting Organized'.
Thanks to Sue C Smith, founder of the WAJ seminar, this has been the main inspiration to write this book. However, given I have more time and space to write this book, I've been able to go so much more in-depth with these ideas. And, after having had a broad set of experiences, from both corporate life and creative life together (from an accountant, investment banker, board member, to songwriter, composer, producer and, now, author), it was a unique perspective to put logical left-brained processes together with creative, right-brained processes.
And to help songwriters be more prolific and successful in their own careers. There are five parts of this book – mindsets, ideas and songs, tools of the trade, co-writing and next steps of our journey as songwriters. There are several 'feature' items – a second songwriter's secret weapon, a FREE workbook, and a lot of new ideas, such a
The Song Chain
The Idea Bank
The Song Funnel
Captured, Writable, Organized, Written and Delivered
The Onion
The Formula
Co-writing etiquette, and how to just making it work
The spark to nurture your career, and
Tools of the trade that are essential, and some are just nice to have!
There's a lot of material here, some of which I'd love to expand with other books. And fingers crossed I'll get to writing those.
The Organized Songwriter: From the Inside Flap
If you didn't catch it, in front of each part of this book, I've given my own personal goals for each area. Just to summarize:
Mindset — To be the best version of a songwriter I can be.
Ideas — To have everything, everywhere.
Tools — To be a creative and prolific songwriter, even when I don't feel like it.
Co-writing — To best serve my co-writers, so we write the best song.
Next Steps — To focus on the journey, not just on the destination.
None of these goals are written in stone — your goals are likely different, and you may have more or fewer than five goals for your songwriting journey. But the point is: goals are helpful. They guide us in getting better at our craft, with our tools, and with our co-writers. Ultimately, having goals helps us enjoy our journey more. That's the only reason for having them.
Of all the advice and information in this book, the one statement I really want you to walk away with was on the very first page of this book, the first words of the Introduction:Nothing is undoable. Just things not done.What I mean is that whatever stage of your amazing songwriting journey you are at, you will probably see another hill or mountain you need to climb.
When you do, just enjoy it. Because waiting to enjoy it until the end of your journey — your destination, wherever that is — is unlikely to be as much fun as the journey itself. Nothing is undoable on your journey.
If you've not yet become the songwriter you want to be — it's not about things you can't do, it's just about things not yet done.
If you haven't got all of your ideas and writable ideas with you everywhere — it's just about things not yet done.
If you are not as creative and prolific a writer as you think you should be — it's just about things not yet done.
If your co-writes are not yet focused on writing great songs together — it's just about things not yet done.
Finally, if you are not focusing on the journey, just the destination — well, guess what? It's just about things not yet done.
My aim with this book is to give you the know-how and tools to get these things. I hope and pray this will be something you'll enjoy doing as much as I am.
About the Author
Simon Hawkins is an award-winning songwriter, producer, and Amazon best-selling author, based on the south coast of England. In 2004, Simon became a full-time songwriter and was quickly signed by Universal Music Publishing in Nashville (Brentwood-Benson Music Publishing/Universal CMG), where he has some 200 songs in his catalog.
In 2010, he founded his publishing company, Great British Music, which now represents his work. Simon's songs have been recorded by Vince Gill and Sheri Easter ("Livin' in the Rain"), American Idol finalist Mandisa ("Truth About Me"), Abandon ("Known"), Avalon ("Destined"), Gold City ("Never Too Broken") and many others in a range of genres. "Livin' in the Rain" reached #2 on the SoGo charts and was long-listed for a Grammy.
In 2012, Mandisa's album "What If We Were Real," which included "Truth About Me," was nominated for a Grammy. "Never Too Broken" reached #1 on the SoGo charts in autumn 2014. Simon also received a Dove nomination for the musical LifeSong: The Musical, written with Sue C Smith. In 2015, Simon's modern hymn "He Is God" won the Integrity Music "Search for a Hymn 2015" competition, which he recorded with Integrity/Thankyou Music.
Simon's book Song Maps – A New System to Write Your Best Lyrics is still a #1 best seller on Amazon, internationally.
A fantastic read that cuts to the heart of what it feels like to struggle and triumph as a creative. This book is a wealth of action steps to push through the invisible barrier that keeps many of us stuck. A fresh perspective that blends the mystery of creativity and the tangibility of results-driven music-making"

— ANDREA STOLPE – Instructor at Berklee Music School, multi-platinum recorded songwriter, artist and author