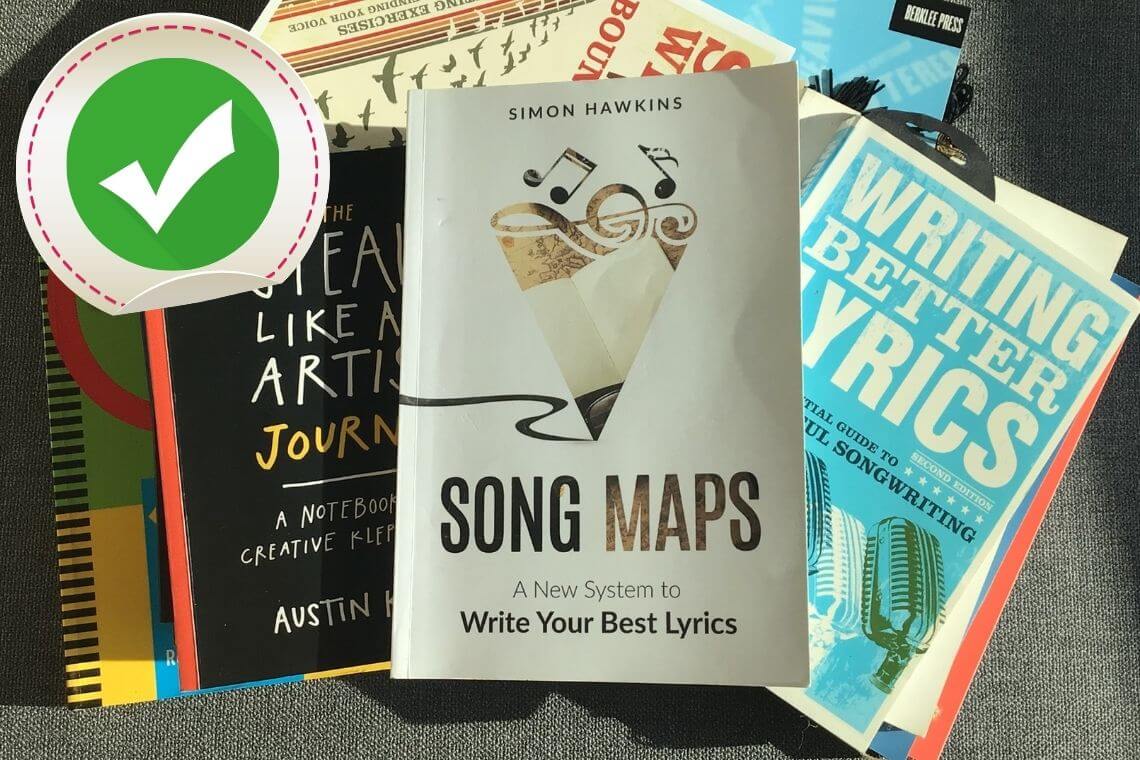 Song Maps: A New System to Write Your Best Lyrics
Song Maps: A New System to Write Your Best Lyrics by Simon Hawkins.
Whether you're just starting out as a songwriter, you're an experienced songwriter or just looking for a new perspective on the beautiful craft of songwriting, Song Maps – A New System to Write Your Best Lyrics offers fresh insights to help you write your very best lyrics.
You may also like: The Organized Songwriter: How to Create Space to Write Your Best Songs from Simon Hawkins
From The Author:
Does any of the following sound familiar?

– You worry that the lyrics you write just don't deliver their full potential but can't figure out why, even though technically they tick all the right boxes.
– You have great ideas but your finished lyrics somehow fall short of the emotional impact you wanted and, as a result, your songs get passed over.
– You have a busy schedule with limited time to write and have wasted too many hours chasing un-writable lyric ideas.

– You wonder how some professional songwriters always seem to get a particular dynamic in their lyrics, consistently writing songs better than 90% of what you hear on the radio.
– You are perhaps nervous about going into a pro co-writing session because you fear your ideas aren't worth bringing into the writing room.
– You know you have so many great titles waiting to be written but haven't found a way of systematically developing them into well-crafted lyrics.
– After writing an amazing hooky Chorus and a great supporting first Verse, you hit the dreaded wall that is "second verse curse".
In Song Maps – A New System to Write Your Best Lyrics, I deliver simple, logical, well-defined solutions to these issues and more: I give you seven well-developed professional templates for you to bring your lyrics to life. I also provide you with a tried and tested process for writing lyrics using Song Maps. And I'll reveal the songwriter's secret weapon.
SongwritersClubhouse.org: "We are a participant in the Amazon Services LLC Associates Program, an affiliate advertising program designed to provide a means for us to earn fees by linking to Amazon.com and affiliated sites." – Each of your purchases via our Amazon affiliation links supports our cause at no additional cost to you. Furthermore, we only recommend products are readers would find valuable. More info on our Affiliate Disclosure Page.
More From The Author:
Much of this book contains new material. This is because, while I enjoyed building a firm foundation of knowledge about the craft from the songwriting programs at Berklee Music School and other sources, I discovered Song Maps afterwards, from my experience as a professional songwriter, writing either on my own or in the writing rooms of Nashville.
Having been signed as a staff songwriter at Universal Music Publishing in Nashville, being nominated and winning awards for my songs including Grammys, Doves and hymn-writing awards, and after spending many years studying thousands of techniques and developing them in my own songwriting and in the writing room, I've had the privilege of teaching the material in this book to hundreds of songwriters and seeing a step change in their writing. I have been blessed to watch them find their authentic voice in writing ideas to their full potential, helping them achieve their dream to move from writing flat 2D lyrics to fabulous High Definition full-color 3D lyrics.
As you assimilate Song Maps into your writing workflow, your songwriting will shift away from tentative, self-conscious, inhibited writing to strong, bold, intentional and vulnerable writing that does full justice to your original ideas, ultimately allowing you to make the impact you deserve as a songwriter.
If you implement the simple, easy-to-understand concepts in this book, I promise you your songs will be better crafted than 90% of the songs you hear on the radio. It will also transform your effectiveness as a co-writer. Importantly, no matter where your songs end up, you will be confident you have written a brilliant lyric and you have served your co-writers well.
Let this book help you transform your lyric writing by using Song Maps in your songwriting workflow and take your song ideas to their ultimate potential by writing your best, truly golden, spectacular songs.
About the Author
Simon Hawkins is an award-winning songwriter, producer, and Amazon best-selling author, based on the south coast of England. In 2004, Simon became a full-time songwriter and was quickly signed by Universal Music Publishing in Nashville (Brentwood-Benson Music Publishing/Universal CMG), where he has some 200 songs in his catalog.
In 2010, he founded his publishing company, Great British Music, which now represents his work. Simon's songs have been recorded by Vince Gill and Sheri Easter ("Livin' in the Rain"), American Idol finalist Mandisa ("Truth About Me"), Abandon ("Known"), Avalon ("Destined"), Gold City ("Never Too Broken") and many others in a range of genres. "Livin' in the Rain" reached #2 on the SoGo charts and was long-listed for a Grammy.
In 2012, Mandisa's album "What If We Were Real," which included "Truth About Me," was nominated for a Grammy. "Never Too Broken" reached #1 on the SoGo charts in autumn 2014. Simon also received a Dove nomination for the musical LifeSong: The Musical, written with Sue C Smith. In 2015, Simon's modern hymn "He Is God" won the Integrity Music "Search for a Hymn 2015" competition, which he recorded with Integrity/Thankyou Music.
Get on Amazon –
Simon's book Song Maps – A New System to Write Your Best Lyrics is still a #1 best seller on Amazon, internationally.