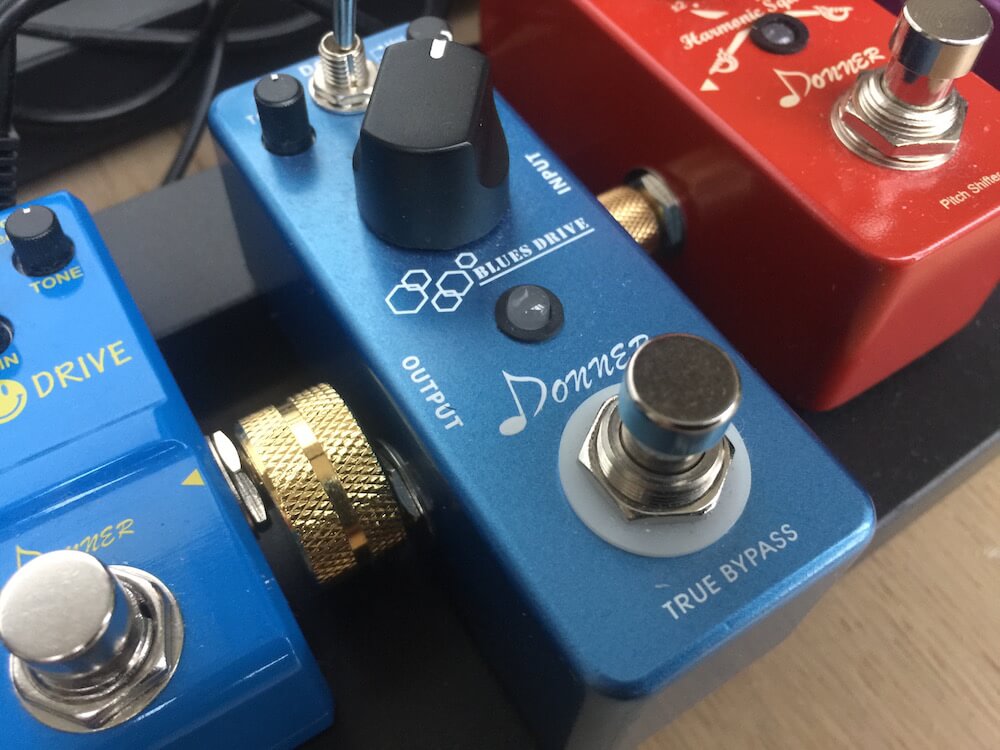 Donner Blues Drive Full Video Review
Donner Blues Drive Review. This is one of the first Donner guitar pedals I got and have been buying from the Donner brand ever since.
The Blues Drive is a cool overdrive pedal and is allegedly Donner's take on a  BOSS BD-2 Blues Driver. It's kind of like a more transparent Tube Screamer with a flatter EQ response. Donner Blues Drive and the Boss BD-2. both feature aluminum housings, level controls, gain controls, and tone controls. The Donner pedal also has a hot/warm toggle switch that comes in handy and is true bypass.
Have you tied the Donner Blues Drive? Let me know in the comments below.
Related Posts:
Donner Blues Drive Video Review
In the video demo, I play my white Fender Telecaster Deluxe modded with a Bibsby Virbro and a Muy Grande '72 Wider Range Humbucking pickup in the Bridge, and a Fender Precision Bass. The amp is a Yamaha THR10 Modeling Combo Amp and even though it's not known to take pedal well, it does a good job with the Donner Blues Drive.
This is a very nice inexpensive OverDrive Pedal that provides a great set of tones to your guitar or bass.
Total video running time 7:42 You can skip ahead using the video online below.
0:00 Verble Overview
1:37 Starts audio demo – Telecaster Deluxe
5:20 Fender P Bass Demo
7:07 Verble Outro
Donner's Description
"Hot" and "Warm" two-tone mode. The hot model provides a more powerful full tone." Warm" sounds smooth and sweeter, making the tone performance more dynamic and distinctive. For all overdrive pedals, tube screamer is always the overload and the incentive effect of the standard. Various versions of replicas are a bewildering variety of choices for customers in the market now, which timbre is loyal to the tube screamer style.
The outstanding medium frequency makes it suitable to play the traditional blues. The hot mode can be a very good interpretation of rock n roll as well. The speaker distortion will become plump and smooth with the Boost on. Special and sweet sounds can be made with the delay added.
Features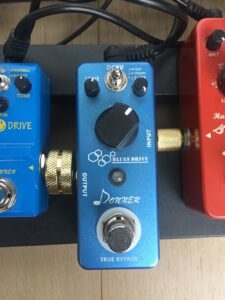 Two models: reproduce the classical electronic overdrive with plump, warm and sweet effect
Enlarging the output to get the tightened electromagnetic sound
Whole Aluminium-alloy classic, stable and strong
True bypass provide a transparent tone
LED indicator shows the working state
Specifications
Brand: Donner
Model: Blue Drive
Input impedance: 520 Ohms
Output impedance: 12 K Ohms
Working current: 8 mA
Power Supply: 9V DC adapter
Dimensions: 95mm (D)44mm (W)48mm (H)
Weight: 240g (with box)
Package included
1 x Donner Blues Drive guitar effect pedal
1 x User's Manual
A Few Frequent Asked Questions
Is the power adapter included with this pedal?
Does the Donner Blues Drive use a Nine Volt Battery?
No the Donner Blues Drive doesn't come with a power adapter and due to is the mini pedal size it doesn't fit a nine-volt battery.
Can I use this pedal with an acoustic guitar?
While technically yes, this pedal is designed for electric guitars and will not sound too pleasing with an acrostic.
Where to Buy
You Can Buy The Donner Blues Drive Here.
Note: "We are a participant in the Amazon Services LLC Associates Program, an affiliate advertising program designed to provide a means for us to earn fees by linking to Amazon.com and affiliated sites."
The review above and rating system below is based on this being a beginner to intermediate player guitar. Donner provided me with this guitar for review.
This review originally appeared on another website that I run that is no longer available.