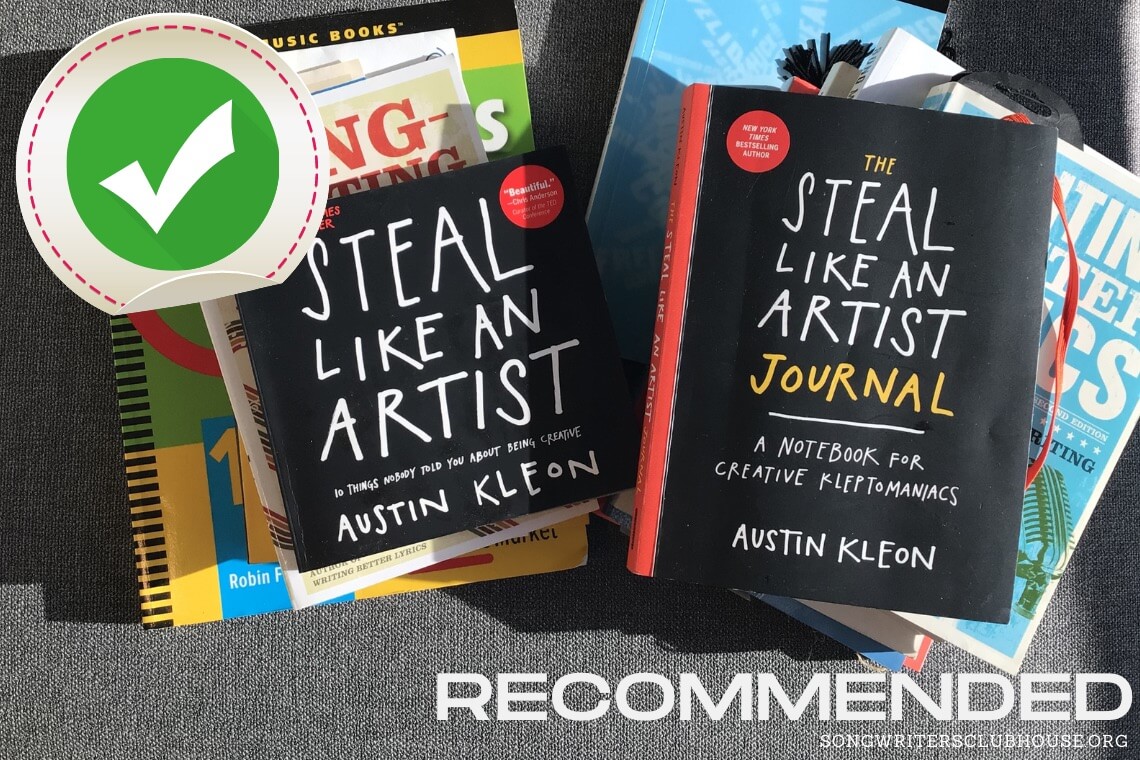 Steal Like an Artist: 10 Things Nobody Told You About Being Creative
Steal Like an Artist: 10 Things Nobody Told You About Being Creative and The Steal Like an Artist Journal: A Notebook for Creative Kleptomaniacs by Austin Kleon.
Unlock your creativity.
An inspiring guide to creativity in the digital age, Steal Like an Artist presents ten transformative principles that will help readers discover their artistic side and build a more creative life.

Nothing is original, so embrace influence, school yourself through the work of others, remix and reimagine to discover your own path. Follow interests wherever they take you—what feels like a hobby may turn into you life's work. Forget the old cliché about writing what you know: Instead, write the book you want to read, make the movie you want to watch.

And finally, stay Smart, stay out of debt, and risk being boring in the everyday world so that you have the space to be wild and daring in your imagination and your work.
"Brilliant and real and true."—Rosanne Cash
From the Back Cover
Unlock your creativity.
Steal like an artist.
Don't wait until you know who you are to get started.
Write the book you want to read.
Use your hands.
Side projects and hobbies are important.
The secret: do good work and share it with people.
Geography is no longer our master.
Be nice. (The world is a small town.)
Be boring. (It's the only way to get work done.)
Creativity is subtraction.
Steal Like An Artist: Austin Kleon at TEDxKC
The Steal Like an Artist Journal: A Notebook for Creative Kleptomaniacs
The next step in your creative journey.

How to use this journal
1. Carry it with you wherever you go.
2. Do at least one exercise every day.
3. Repeat the first two steps until the pages are full.From the New York Times bestselling author of Steal Like an Artist, Show Your Work!. and Keep Going, an interactive journal and all-in-one logbook to get your creative juices flowing, and keep a record of your ideas and discoveries.
The Steal Like an Artist Journal includes page after page of ideas, prompts, quotes, and exercises are like a daily course in creativity. There are lists to fill in—Ten Things I Want to Learn, Ten Things I Probably Think About More Than the Average Person. Challenges to take. Illustrated creative exercises—Make a Mixtape (for someone who doesn't know you) and Fill in the Speech Balloons. Pro and con charts—What Excites You?/What Drains You?
Includes an elastic band for place-marking and a special pocket in the back—a "swipe file" to store bits and pieces of inspiration. Because if you want to steal like an artist, you need a place to keep your loot.
10 Best Ideas | STEAL LIKE AN ARTIST | Austin Kleon | Book Summary
SongwritersClubhouse.org: "We are a participant in the Amazon Services LLC Associates Program, an affiliate advertising program designed to provide a means for us to earn fees by linking to Amazon.com and affiliated sites." – Each of your purchases via our Amazon affiliation links supports our cause at no additional cost to you. Furthermore, we only recommend products are readers would find valuable. More info on our Affiliate Disclosure Page.