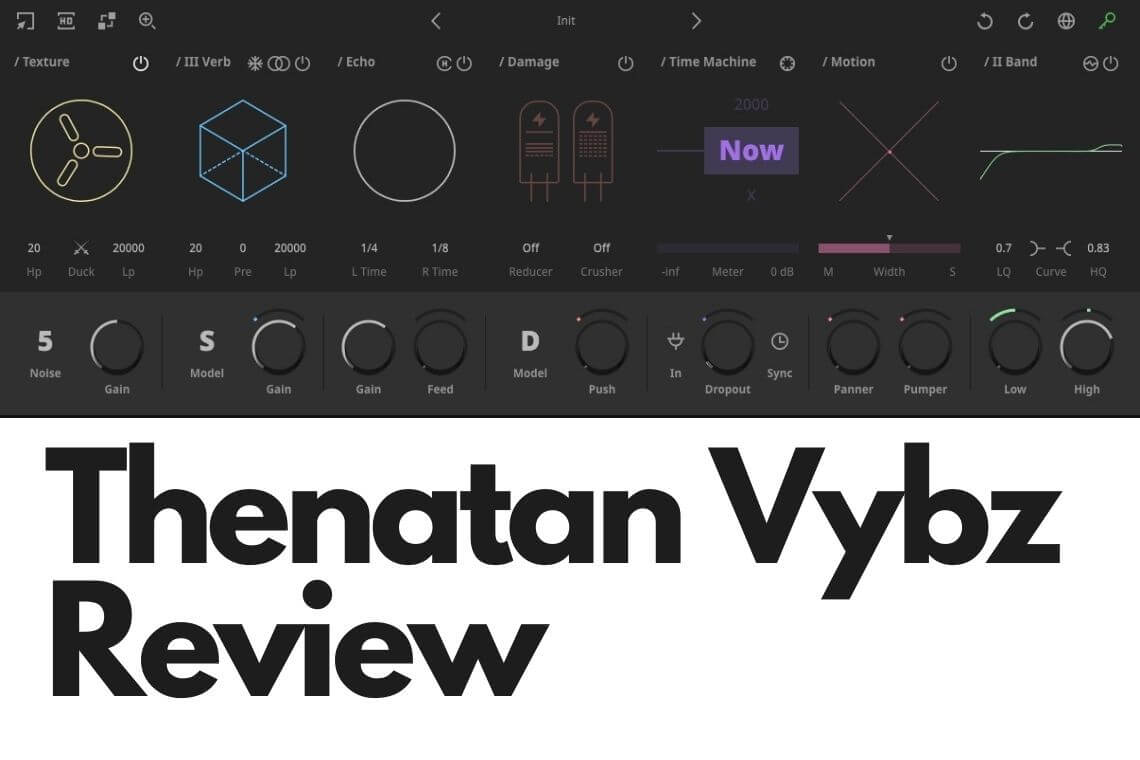 Thenatan Vybz Review – Make Lofi Beats & Retro Sounds [Video]
If you're looking to make lofi beats, add some retro sound to your music, or just vibe out some of your tracks then check out Thenatan Vybz. I bought this a few weeks ago and it's now my go-to plug-in for lo-fi and retro sounds.
Vybz is available for Macs and PCs as an Audio Units or VST plugin and works with most major DAW's. There is no ProTools version at the time of writing this post.
Free demo is available.
Thenatan Vybz Review – Lofi Beats FX Plugin (RETRO SOUNDS) Sound Demos & Overview
Bring back The Nostalgic Vibes of Old/retro Days, and Take your listener To when all the 'faults' were a part of the Songs.
In this video, I go over many of the features of this really cool plug-in and tested out on multiple sources including guitars, drums, piano, strings, and other instruments.
Thenatan Vybz Review Video Outline
Video Outline
0:00​ Intro
0:41​ Overview of Vybz Plugin
3:34​ Piano & Drumloop with talking
3:52​ texture / noise
5:49​ Time Machine Part 1
6:10​ Reverb overview
6:45​ Echo
7:39​ Reverb freeze
8:43​ Damage/crusher overdrive
9:16​ Time machine part two VHS
9:38​ Motion
9:55​ Vybz Experimenting with a pad sound
14:31​ Vybz on Drums part 1 some preset sounds
15:43​ Extra eq setting
16:26​ Vybz Trap beat
18:32​ Vybz on Vocals – Evolution fx and some fun just messing around with various effects settings
22:00​ Slide guitar
23:29​ Rock guitar
24:41​ Synthesizer with some presets
25:16​ Strings
26:18​ Melodic bells
26:57​ Marimba
27:22​ Synthesizer riff
27:58​ 808 Drum kit
29:31​ Ending & More Videos
Thenatan Vybz Features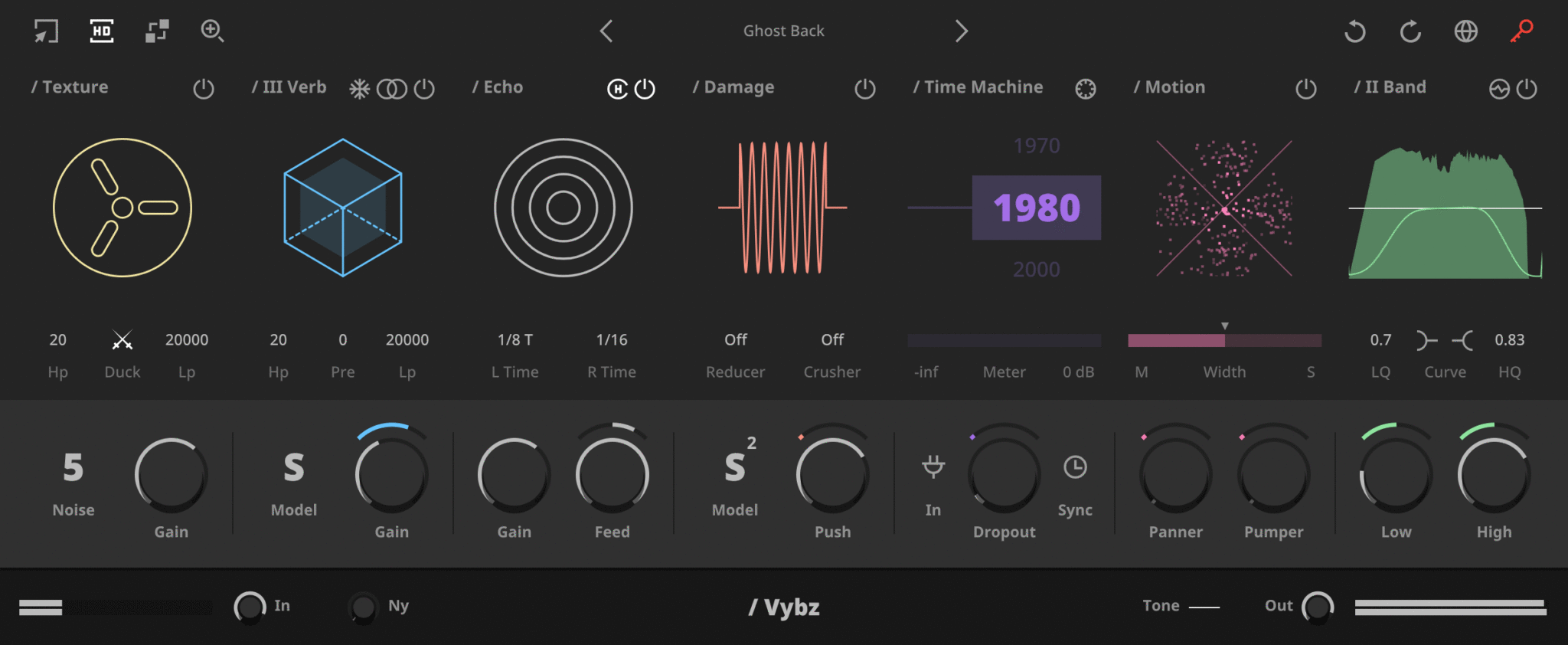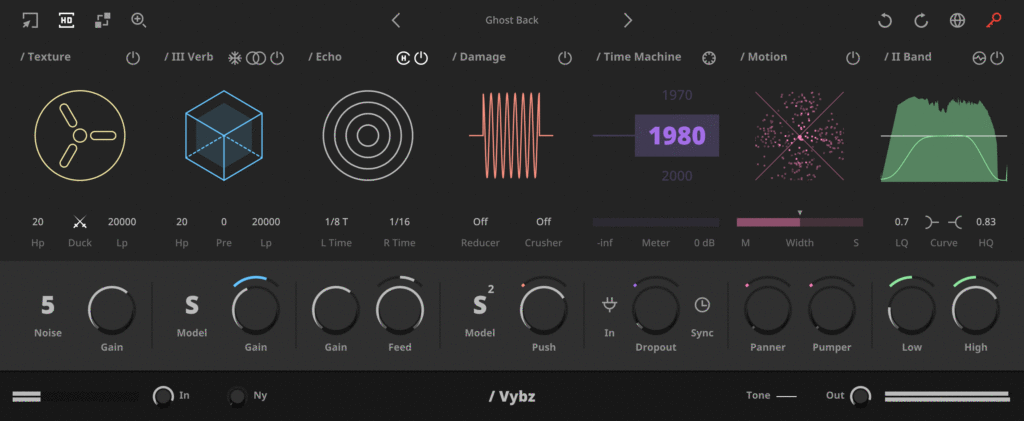 Texture
9 Unique & Professionally Recorded Noises / Textures, "Easily Drag & Drop Your Noise Samples into The Texture Module" + Duck / HP & LP Controls.
III Verb
3 Type Of Amazing / Lush And Digitilized Reverbs, With Freeze, Mono / Stereo Controls, And HP & LP Knobs. + Convolution Reverb
Echo
Get short Slap Or Infinity Feedbacks With The Echo Unit, a Tempo Synced Delay Effect, With Chorus & Color Control.
Damage
4 Types Of Special Warm & Gritty Algorithmic Distortions, And 1 Waveshaper With Table Control.
Time Machine
Select the record's year of your Beat, from 1930… up until NOW, Or Feel the lo-fi magic With VHS & Drop-out Effects.
Motion
Stereo Widener, Volume modulation, Side Chain, Trance Gate, Tremolo / Panner All available on Motion Module.
II Band
Correct Or balance issues in the most important frequencies, the low and high end. + Dynamic EQ.
Real-World Sims
Realistic emulation of different types of Speakers & Environments.


A Swiss Army Knife that includes everything about a modern or classic wet tone and it looks great while doing it.
With Vybz ultimate all-purpose Effect modules, You can Colorize your mixes And Crank it back a few decades when snaps, crackles, and pops were a necessary part of the experience.
Vybz runs on PC and Mac in VST/AU formats.
Note: I paid for the Vybz Plugin and I'm a participant in the ADSRsounds Affiliate Program. If you make a purchase on their site with my link, I get a small commission at no additional cost to you. Furthermore, I only recommend products I think my viewers would find valuable. Also, I reviewed this product before I was an affiliate with them.
Demo Limitations: The Output of the plugin will mute briefly every 10 seconds. The product is fully functional, with no expiry date.