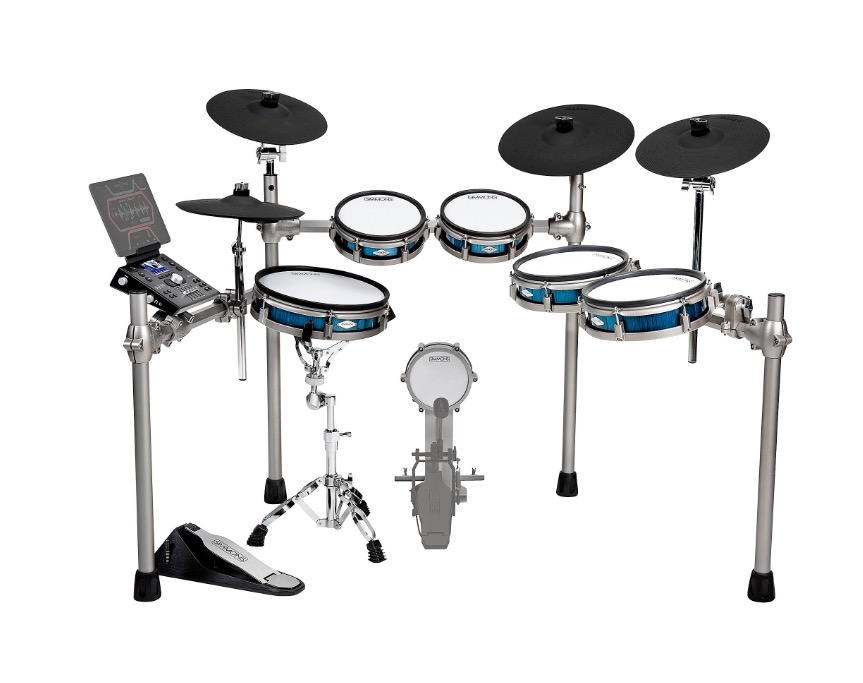 What Is The Simmons SD1200 Electronic Drum Kit?/ Who is the Simmons SD1200 For?
Full In-depth Video Review With Sound Demos – All 50 Drum Kits.
More details on the kit and sounds
The Simmons SD1200 as a MIDI Controller with EZDrummer (Video)
The Simmons iOS App
Features and Specs
Where to Buy
The Simmons SD1200 is the new flagship electronic drum kit offering from Simmons and is a nice upgrade from the SD600 kit I reviewed earlier this year.
The biggest improvements from the SD 600 kit is 15 more preset drum kits (50 total), bigger pads for the snare and floor tom (13in. Snare, 10in. floor tom), 13in. 3 zone ride and you can load your own samples.
The Simmons SD600 includes a kick drum pedal, but the ST 1200 does not. The SD 1200 comes with a snare drum stand.
MODULE SPECS
TRIGGER INPUTS
Kick
Snare – Dual-zone
Toms 1–3 – Dual-zone
Crash – Dual-zone
Hi-Hat – Dual-zone with multi-positional controller Ride – Triple Zone
Tom 4 and Crash 2 inputs – Dual Zone
RACK
Aluminum hex with steel support rods Adjustable mounts
Snare Stand
DRUMS
12" Mesh Dual Zone Snare
8", 8", 10" Mesh Dual Zone Toms 12" Dual-zone Hi-Hat Cymbal 12" Dual-Zone Crash Cymbal
14" Triple Zone Ride Cymbal Mesh Kick Drum pad with Stand Multi-position Hi-Hat Controller
EXTERNAL CONNECTIONS
Headphone Output
Master Stereo Outputs (1/4" TS Unbalanced) 1/8" TRS Aux Input
MIDI In and Out Jacks
USB Connection
SEQUENCER
Snare Drum
14 inch Ride Cymbal